Qatar's neighbourhoods boast waterfront views, sandy beaches, retail, exhibition spaces and eateries, reflecting the rich diversity of this compact state. List of Most Iconic places to Visit in Qatar
Where to go in Doha Qatar?
The top attractions inclue Souq Waqif, Museum of Islamic Art, Katara Cultural Village, Doha Corniche, Qatar National Library, City Centre Mall, Aqua Lounge, Oxygene Club and hundreds of other venues.
What to see in Doha in one day?
The list is vast but you could include a museum, a beach, Souq Waqif, Katara Cultural Village and dinner at a 5-star hotel.
What to do in Qatar?
Qatar is a fantastic and amazing holiday destination. There is an unbelieveable amount of leisure, adventure, dining and cultural offerings to discover.
What are the best places to visit in Qatar with friends?
There are nightclubs in Doha and visitors also enjoy Shisha Terrace at the Four Seasons Hotel Doha, sunset dinner cruises, beverages on a rooftop terrace, night desert safaris, The Pearl Qatar, archeological sites, forts, Banana Island, Sheikh Faisal Bin Qassim Al Thani Museum, Al Dhakira Mangroves, horse and camel racing, popular beaches, hotels, souqs.
What are the best places to visit in Qatar?
The top places include Souq Waqif, National Museum of Qatar, Katara Cultural Village, Museum of Islamic Art, Qatar National Library, Doha Corniche, City Center Mall, Oxygen Park and hundeds of other venues.
What are the best places to visit in Qatar with family?
Theme and adventure parks, zoos, KidZania, pristine beaches, scuba diving sites, desert safaris, archeological sites, forts, Banana Island, mangove forests, souqs.
Download app


The Pearl-Qatar
The Pearl, Qatar is a man-made island offshore Doha's prestigious West Bay District, featuring Mediterranean-style yacht-lined marinas, residential towers, villas, and hotels, as well as introducing a luxurious shopping experience with premium designer boutiques and showrooms. The Island is also home to modern dining spots- from refreshing ice creams to five-star culinary experiences, while it stands out for its pedestrian-friendly squares and plazas and the wide range of landscaped gardens.
The Pearl is a popular visitor attraction by virtue of its chic elegance, inviting descriptions such as the 'Arabian Riviera'.
Qatar National Library
A community space for visitors to access millions of books, research, community programs, and Qatar's heritage
Souq Waqif
Built on the site of Doha's century old trading market, on the banks of the Wadi Musheireb, Souq Waqif feels like an anachronism, particularly against the backdrop of Doha's dramatic modernist skyline.  With its mud-daubed buildings, the market harkens to a bygone era while remaining a hub of activity, where commerce and gossip collide.  Souq Waqif's winding alleys offer a tableau of traditional street life.
Falcon Souq
Located within the confines of Souq Waqif, the Falcon Souq is one of the most exciting places to visit in Doha. Visitors can admire the majestic birds from up close; take photographs and, under the shopkeeper's watchful eye, pose with a falcon perched on an arm.
Al Shaqab
Al Shaqab, a Qatar Foundation member since 2004, is Qatar's state-of-the-art equestrian centre, dating back to 1992. It aims to preserve the historical traditions and legacy of the Arabian horses; animals that are highly respected in the country. Home to more than 700 of them, Al Shaqab introduces one of the world's leading and most advanced equestrian programmes based on three main principles – excellence, education and heritage.
Katara Cultural Village
Combining art galleries and workshops, theatres and performances venues, and exceptional restaurants choices, Katara Cultural Village is Doha's destination for culture and entertainment. A central amphitheatre stands against a backdrop of traditional architecture and cobbled streets, and is the site of many cultural performances. Adjoining the main development, a spacious public beach offers water sports and equipment rentals. 
Msheireb Downtown Doha
The world's first sustainable downtown regeneration project, Msheireb Downtown revives Doha's old commercial district with a new architectural language. While modern, the architecture of Msheireb is inspired by Qatar's heritage – its proportion, simplicity, space, light, layering, and response to the country's climate. 
Qanat Quartier
A feast for the eyes, this Venice-inspired neighbourhood brings a piece of the Mediterranean to Doha. Boasting turquoise canals flanked by candy-coloured buildings and gracefully arched bridges, Qanat Quartier abounds with Instagram-worthy vistas. Play a tune on the musical staircase, or take a leisurely stroll down broad avenues as you wander in and out of the neighbourhood's many boutiques and cafés. Grab a coffee, stick your toes in the sand, and take in stunning views of the Arabian Gulf from Qanat Quartier's beachfront promenade. 
Doha Quest
Qatar's first-ever theme park, Quest, located in Msheireb is a 32,000 sqm. novel indoor entertainment destination which caters to an audience of all ages. Facilitating over 30 rides and attractions this entertainment hub features adrenaline-heavy thrill rides, media-controlled simulators, virtual reality experiences and more.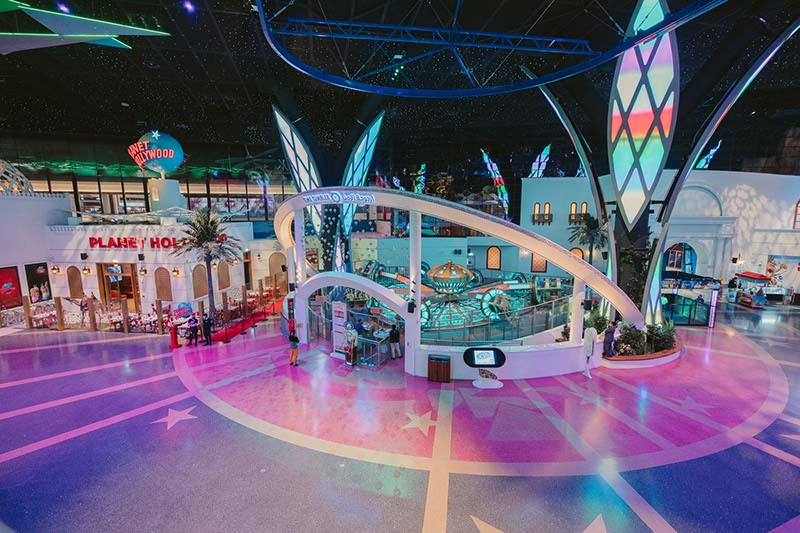 Education City
Education city hosts campuses of leading universities and top tier schools, along with a beautiful park, an abundance of sports facilities, numerous food options, a golf club, a technologically advanced library, a modern art museum, and a few of the most remarkable buildings in the country.
Ceremonial Court and the Ceremonial Green Spine
A beautiful multipurpose, open-air space that hosts significant events in Education City, such as QF Convocation, Qatar National Day, and more.
Dahl Al Misfir
Located west of Doha, in the centre of the peninsula, Dahl Al Misfir is one of Qatar's most exciting natural sites.  At 40 meters deep, it is considered the largest and deepest, yet accessible cave in Qatar.  Formed largely of fibrous gypsum, it sometimes gives off a faint, otherworldly glow. 
Imam Abdul Wahhab Mosque
As the largest mosque in Qatar, Imam Abdul Wahhab, also known as the Qatar State Grand Mosque, was inaugurated in 2011. Its simple lines and graceful arches are nonetheless eye-catching, and characteristic of Islamic architectural tradition. The mosque houses three libraries, separate prayer and ablution halls for men and women, and special halls for Quran memorisation, and can hold over 30,000 worshippers.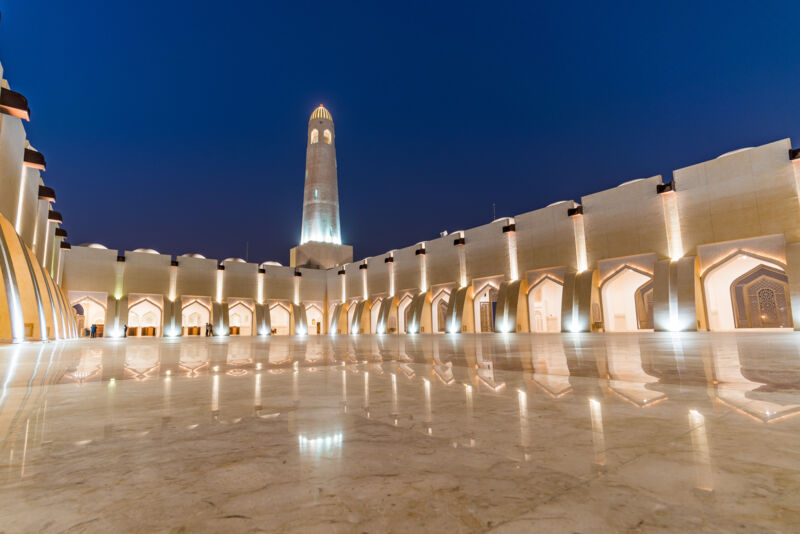 Aspire Zone Foundation
Located minutes from central Doha, Aspire Zone is marked by The Torch Doha, the 300m tall hotel which boasts panoramic views of the city.  With world-class sports venues, a training academy, sports medicine hospital, turf research centre, as well as five-star accommodation, restaurants and entertainment, it is a compact destination for sport lovers. The vast green spaces of Aspire Park, spread over 880,00 m2, offer respite from the cityscape, with walking/running tracks, children's play areas, a large lake, and Perceval, a public artwork by Sarah Lucas. Cafés and dining venues dot the area, while Villaggio Mall and Hyatt Plaza Mall provide more entertainment, dining and retail options.
Education City Mosque
The Education City Mosque is located in the Minaretein building which rests on five large columns representing the five pillars of Islam. The mosque can host up to 2,800 worshippers in its interior and exterior spaces. In addition, the building houses the College of Islamic Studies, which is an entity of Hamad Bin Khalifa University.
Doha Exhibition and Convention Center
Doha Exhibition and Convention Center (DECC) offers vast versatile spaces to host events.  It comprises seven exhibition halls and conference rooms under an impressive floating blade roof. 
Khor Al Adaid Beach 
This area of southern Qatar is one of the most unusual yet attractive destinations imaginable. The pristine sea and ever-changing sands make visits totally memorable.
Wonderful to observe and fun to drive across, the dunes reach dizzying heights of up to 40 metres. 
Heenat Salma Farm
Situated in the Al Shahaniya municipality is Heenat Salma Farm. It attracts the eco-conscious, farming traditionalists and true fans of organic, natural produce. Heenat promotes communal living and welcomes guests who respect nature.
Explore North Sedra Farm
North Sedra Farm has gained a wide reputation among the local and Arabian Gulf communities and has become a enchanting destination for families and tourists.
Fanar
One of the most widely known landmarks in Doha, the spiral-shaped Fanar building is centrally located near Souq Waqif and the Museum of Islamic Art.  It can be seen from a distance, especially in the evenings when its lighting accentuates the unique design of this beautifully unique piece of architecture. Fanar was once the largest mosque in the country.
Al Shahaniya camel racetrack
A visit to Al Shahaniya offers a unique opportunity to admire the best groomed and some of the most expensive camels in the world.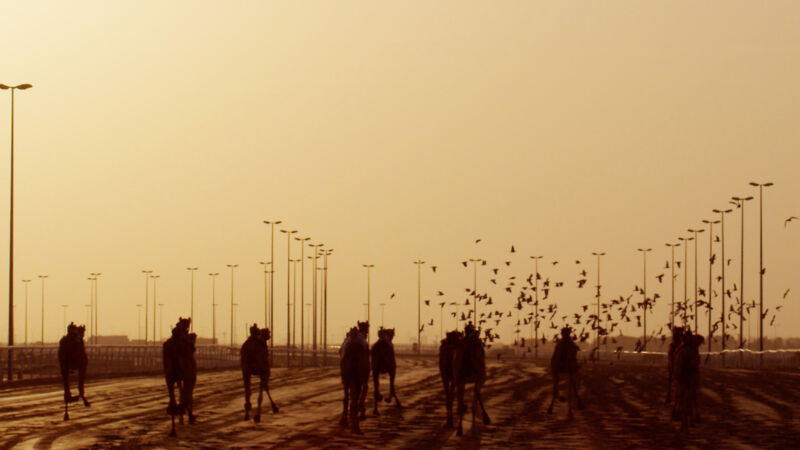 The Corniche
One of Doha's most iconic attractions, the Doha Corniche is a seven kilometer stretch of gorgeous promenade overlooking the serene waterfront. With a crescent shaped walkway around the Doha Bay, the Corniche offers the best views of the city's modern skyline, making the epicenter of various occasions such as the National Day celebrations and the National Sports Day.
Take a trip to Box Park
Take a trip to Box Park Think out of the box when you feel like exploring the city
Baladna Farm and Park
Baladna Park is 2.4 million square metres of lush, manicured lawns and gardens and a popular family edutainment destination. It offers a plethora of exciting and interesting activities. The park has a zoo that houses dozens of species such as mini kangaroos, giant turtles, royal peacocks, alpacas, wallaby, emus, pigmy goats and sheep.
Embrace Doha
Embrace Doha, an independent women-run cultural house based in Souq Al Wakrah, welcomes you to enjoy a series of experiences and workshops about authentic Qatari culture. 
Make sure to check out our social media to keep track of the latest content.
Instagram -  @nyongesasande
Twitter -  @nyongesasande
Facebook -  Nyongesa Sande
YouTube -  @nyongesasande
Disclaimer: The information that Nyongesasande.com provides on this website is obtained from publicly available resources and is intended for information or educational purposes only. We aim to present the most accurate information possible. Through this website, you might link to other websites which are not under our control. We have no control over the nature, content and availability of those websites. Inclusion of any links does not necessarily imply a recommendation or endorsement of the views expressed within them. All content on this website is copyright to the website's owner and all rights are reserved. We take no responsibility for, and will not be liable for, the website being temporarily unavailable due to technical issues beyond our control. Please refer to our terms and conditions and privacy policy before using this website.