A minibus, microbus, minicoach, or commuter (in Zimbabwe) is a passenger-carrying motor vehicle that is designed to carry more people than a multi-purpose vehicle or minivan, but fewer people than a full-size bus. In the United Kingdom, the word "minibus" is used to describe any full-sized passenger-carrying van or panel truck. Minibuses have a seating capacity of between 8 and 30 seats. Larger minibuses may be called midibuses. Minibuses are typically front-engined step-entrance vehicles, although low floor minibuses do exist and are particularly common in Japan. Minibuses may range in price from £2000 to nearly £100,000.Minibuses are used for a variety of reasons. In a public transport role, they can be used as fixed route transit buses, airport buses, flexible demand responsive transport vehicles, share taxis or large taxicabs. Accessible minibuses can also be used for paratransit type services, by local authorities, transit operators, hospitals or charities. Private uses of minibuses can include corporate transport, charter buses, tour buses. Schools, sports clubs, community groups and charities may also use minibuses for private transport. Individual owners may use reduced seating minibuses as cheap recreational vehicles. List of the Best MiniBus Models in the World
By size, microbuses are minibuses smaller than 8 metres (26 ft 3 in) long. Midibuses are minibuses bigger than microbuses but smaller than full-size buses.
There are many different types and configurations of minibuses, due to historical and local differences, and usage. Minibus designs can be classified in three main groups, with a general increase in seating capacity with each type:
Van conversions. Simple, optional extras
Body builds
Purpose built
The most basic source of minibuses is the van conversion, where the minibus is derived by modifying the existing van design. Conversions may be produced completely by the van manufacturer, sold as part of their standard model line-up, or be produced by specialist conversion companies, who source a suitably prepared base model from the van manufacturer for final completion as a minibus.
Van conversions involve adding windows to the bodywork, and seating to the cargo area. Van conversion minibuses outwardly look the same shape as the parent van, and the driver and front passenger cabin remains unchanged, retaining the driver and passenger doors. Access to the former cargo area for passengers is through the standard van side sliding door, or the rear doors. These may be fitted with step equipment to make boarding easier. Optional extras to van converted minibuses can include the addition of a rollsign for transit work, and/or a full-height walk-in door, for passenger access to the former cargo area. For public transport use, this door may be an automatic concertina type. For other uses, this may be a simple plug style coach door. Depending on the relevant legislation, conversions may also involve wheelchair lifts and tachograph equipment. A van conversion with a passenger area in the front and a storage area in the back, behind a fixed bulkhead, is called a splitter bus.
Examples of vans used for these conversion minibuses are:
The Fiat Ducato is a light commercial vehicle officially developed by Stellantis (formerly FCA) and produced since 1981. It was also sold as the Citroën C25, Peugeot J5, Alfa Romeo AR6 and Talbot Express for the first generation, while the second and third generations are marketed as the Fiat Ducato, Citroën Jumper, and Peugeot Boxer. It entered the Canada and United States markets as the Ram ProMaster for the 2014 model year.
In Europe, it is produced at the Sevel Sud factory, in Atessa, Italy. It has also been produced at the Iveco factory in Sete Lagoas, Brazil, at the Karsan factory in Akçalar, Turkey, at the Fiat Chrysler Automobiles Saltillo Truck Assembly Plant in Saltillo, Mexico, and at the Fiat-Sollers factory in Elabuga, Russia. Since 1981, more than 2.6 million Fiat Ducatos have been produced. The Ducato is the most common motorhome base used in Europe; with around two thirds of motorhomes using the Ducato base.
Equipment levels were high, with this light commercial van getting air conditioning, CD player, power windows and mirrors, anti-lock braking system and tire-pressure monitoring system.
In July 2019 the electric version of the Ducato developed by FCA Italy was presented and will be on sale from 2020. From the model year of 2021, the Ducato is also rebadged as the Opel/Vauxhall Movano, replacing the previous model Movano, which from 1998 until 2021 had been based on the Renault Master.
The Ford Transit, also known as the Ford T-Series in some markets, is a family of light commercial vehicles manufactured by Ford since 1965, originally based on the FR layout, and now in its fourth generation. Sold primarily as a cargo van, the Transit is also built as a passenger van (marketed as the Ford Tourneo since 1995), minibus, cutaway van chassis, and as a pickup truck. Over 8,000,000 Transit vans have been sold, making it the third best-selling van of all time[1] and have been produced across four basic platform generations (debuting in 1965, 1986, 2000, and 2013 respectively), with various "facelift" versions of each.
Hyundai Starex
The Hyundai Starex is a van built by Hyundai Between 1997 to 2021. First generation models were known in Europe as the Hyundai H-1 and as the Hyundai H200 in the Netherlands. For the second generation, Australian and UK market models are sold as the Hyundai iLoad (cargo version), in Australia as Hyundai iMax and the UK as Hyundai i800 (people mover versions).
European models are differentiated as the Hyundai H-1 Cargo (cargo version) and Hyundai H-1 Travel (people mover version). In the Netherlands, it is called Hyundai H300, in Malaysia, only as Hyundai Starex Royale with Minivan, while the people mover version of the H300 is sold only for fleets.
Mercedes-Benz Sprinter
The Mercedes-Benz Sprinter is a light commercial vehicle (van) built by Daimler AG of Stuttgart, Germany as a large van, chassis cab, minibus, and pickup truck. In the past the Sprinter has been sold under the Mercedes-Benz, Dodge, Freightliner, and Volkswagen nameplates. In the U.S. it is built from complete knock down (CKD) kits by Freightliner. They are now primarily marketed by Mercedes-Benz. Re-badged and re-engined Sprinters were also sold by Volkswagen Commercial Vehicles as the Volkswagen LT and the Volkswagen Crafter.
The Renault Master is a large van produced by the French manufacturer Renault since 1980, now in its third generation. It replaced the earlier Renault Super Goélette light trucks and the Renault 50 series of full-size vans. Opel has sold versions of the second and third series vans as the Opel Movano in Continental Europe and Vauxhall Movano in the United Kingdom. All three generations have been designed and manufactured by Renault, irrespective of the brand.
Over its lifetime several different body styles have been available, from the standard van to bigger models with an increased load area, height, and longer wheelbases with an LWB prefix. Panel vans are very common, but pickups are also available. Heavier duty models of the Master were also sold by (now Volvo owned) Renault Trucks as the B series, later as the Messenger and the Mascott.
The Toyota HiAce (Japanese: トヨタ・ハイエース, Hepburn: Toyota Haiēsu) (pronounced "High Ace") is a light commercial vehicle produced by the Japanese automobile manufacturer Toyota. First launched in October 1967, the HiAce has since been available in a wide range of body configurations, including a minivan/MPV, minibus, panel van, crew van, pickup truck, taxi and an ambulance. In Japan, the HiAce is exclusive to Toyopet Store locations.
Volkswagen Crafter
The Volkswagen Crafter, introduced in 2006, is the largest 3 to 5 ton van produced and sold by the German automaker Volkswagen Commercial Vehicles. The Crafter officially replaced the Volkswagen Transporter LT nameplate first launched in 1975, although it is known as the LT3 as its production plant code.
Like the second generation LT, the first generation Crafter is a rebadged Mercedes-Benz Sprinter, built by Daimler AG, with a powertrain by Volkswagen. The Daimler variant has been also sold by Daimler as the Freightliner Sprinter and Dodge Sprinter. An all-electric variant, the e Crafter, was released in 2017.
Starting with the 2017 model year the Crafter is designed and built by Volkswagen, and no longer associated with the Sprinter. A version of the Crafter is also sold by MAN Truck & Bus as the MAN TGE. Its major European competitors include the Renault Master, Ford Transit, Fiat Ducato, Mercedes-Benz Sprinter, Iveco Daily and Hyundai H350.
Tata Winger
The Tata Winger is a light commercial van produced by the Indian automaker Tata Motors in 2007, It is a rebadged version of the Renault Trafic Mk1 Phase 3 van. but fitted with Tata's own 2 litre diesel engines.
Body builds MiniBuses
Another method of building a minibus is for a second stage manufacturer to build a specific body for fitting to a semi-completed van or light truck chassis. These allow a higher seating capacity than a simple van conversion. Often, the second stage manufacturer is a bus manufacturer.
In a body-on-chassis minibus, a cabin body is installed on a van or light truck chassis encompassing the drivers area. These designs may retain some outward signs of the original van, such as the hood and grill. Other designs are visually a complete bus design, and it is merely the chassis underneath that is from the van design.
The body-on-chassis approach gives the advantage of higher seating capacity, or more room for passenger comfort, through a larger cabin area. There is also the advantage of being able to have the drivers seat positioned in a small cubicle, next to the main passenger entrance, allowing the driver to collect fares in a transit bus role.
Examples of body built minibuses are:
Busette (cut away chassis)
The Wayne Busette is a minibus that was assembled by Wayne Corporation from 1973 to 1990. During its production, many examples of the Busette were produced as school buses. One of the first examples produced with a cutaway van chassis, the Busette mated a purpose-built school bus body with a dual rear-wheel van chassis. In North America, this configuration is now preferred by manufacturers for many other types of minibuses in addition to school buses.
Based on General Motors, Ford, and Dodge van chassis, the Wayne Busette was assembled in Richmond, Indiana, alongside the Wayne Lifeguard and Wayne Lifestar.
Optare CityPacer (visually complete bus based on a van chassis)
The Optare CityPacer was a minibus body manufactured by Optare from 1985 to 1992. Launched in November 1985, it was fitted to the Volkswagen LT55 chassis. A total of 294 were manufactured, with London Regional Transport purchasing 52.
Its prominent feature was its large one-piece front windscreen, with large triangular quarterlights giving the impression that it wrapped around the sides of the body. Primarily built for the British market, two were built in left hand drive configuration for an operator in the Netherlands. The CityPacer was supplemented but not replaced by the StarRider, based on the Mercedes-Benz 811D chassis. Both were replaced by the integral Optare MetroRider, which had been a competing design from Metro Cammell Weymann before Optare bought the rights to the design
Plaxton Beaver (built on the Mercedes-Benz T2 and later the Vario chassis)
The Plaxton Beaver, originally known as the Reeve Burgess Beaver, is a minibus body built by Plaxton. It was built at the Pilsley, Derbyshire factory of Plaxton's Reeve Burgess subsidiary from 1987-1991, at Plaxton's main Scarborough factory from 1991, and from 1995 at Anston in South Yorkshire.
The Beaver has been built mainly on Mercedes-Benz van-derived minibus chassis such as the 709D and 811D, and was also built on the Renault S56 and S75 until 1992. Rare examples were also built on Iveco 49.10 chassis.
The Beaver 2, built on Mercedes-Benz Vario chassis, replaced the original Beaver in December 1996, and was still in production in 2007. In 2006 Plaxton launched the Beaver 3, the Beaver 2 body combined with the front end of a Plaxton Cheetah.
Examples of vehicles used for this type of minibuses are:
Ford Transit
The Ford Transit, also known as the Ford T-Series in some markets, is a family of light commercial vehicles manufactured by Ford since 1965, originally based on the FR layout, and now in its fourth generation. Sold primarily as a cargo van, the Transit is also built as a passenger van (marketed as the Ford Tourneo since 1995), minibus, cutaway van chassis, and as a pickup truck. Over 8,000,000 Transit vans have been sold, making it the third best-selling van of all time and have been produced across four basic platform generations (debuting in 1965, 1986, 2000, and 2013 respectively), with various "facelift" versions of each.
The first product of the merged Ford of Europe, the Transit was marketed through Western Europe and Australia; by the end of the twentieth century, it was marketed nearly globally with the exception of North America until 2013 when it replaced the Ford E-Series in 2015. The Transit has been the best-selling light commercial vehicle in Europe for forty years, and in some countries the term "Transit" has passed into common usage as a generic trademark applying to any light commercial van in the Transit's size bracket. While initially designed for the European market, the Ford Transit is now produced in Asia, North America, and Europe for worldwide buyers. Upon production in North America, the Transit won second place in Motor Trend's 2015 'Truck of the Year' award, behind the newly introduced mid-size Chevrolet Colorado pickup and ahead of the new Ford F-150. As of 2016, the Transit was the best-selling van of any type in the United States, minivan sales included. The Transit is an important part of Ford's 57 percent share of the full-size van market in the United States
Freight Rover
Freight Rover was a British commercial vehicle manufacturer based in the Washwood Heath area of Birmingham, England. Freight Rover was created as a division of the Land Rover Group of British Leyland (BL) in 1981, creating a new single brand for BL's panel van business. Essentially Freight Rovers were face-lifted, badge engineered 1st gen Leyland Sherpas.
Under later company organisation changes, Freight Rover became part of the Leyland Trucks division of BL. In 1987, the Leyland Trucks division of, what was by then, the Rover Group (following the renaming of BL in 1986), merged with the Dutch truck company DAF Trucks to form DAF NV, which was later floated on the Dutch stock market. The British arm of the new company traded as Leyland DAF, with two main sites in the UK: the truck plant in Leyland and the vans plant in Washwood Heath. Following the collapse of DAF NV in 1993, the van business was the subject of a management buyout and a new independent van company, LDV Group, was established
Isuzu Elf locally built as the NQR bus
The Isuzu Elf (Japanese: いすゞ・エルフ, Isuzu Erufu) is a medium duty truck produced by Isuzu since 1959. Outside Japan it is known as N series. The range was originally mainly available in Japan and other Asian countries. Australia was another important market for the Elf and N series – to the extent that it was manufactured there from the 1970s using many local components. Since the early 1980s, it has also been sold and built in the United States (under the Chevrolet and GMC brand as a W-Series), and also as the Isuzu N-Series. North America only receives the wide-cab version.
For the common Andinian market (including Chile and Peru), the truck has been assembled in the GM-Colmotores assembling plant in Bogotá, Colombia since 1991, with annual quantities already of 20,000 up to 60,000 units. Local assembly has been increasing because of increasing demand in the Colombian and neighboring markets. It carries "Tecnología Isuzu" (with Isuzu Technology) lettering.
In Indonesia, Philippines and several other countries, the Elf is not only used as a truck, but also converted into microbuses by local body makers. The lighter four-wheeled models are commonly used as an intercity Angkot or Jeepney (share taxis), as a school bus, or as an employee bus.
Purpose built MiniBuses
A next generation approach to the van-derived or cutaway chassis approach, is for manufacturers to produce an integral design, where the whole vehicle is purposely designed and built for use as a minibus. This is usually done by an integral bus manufacturer, although large automotive groups also produce their own models. These designs are often available in long high capacity versions, and may attract different designations, such as midibus, or light bus.
Examples of purpose built minibuses are:
Hino Liesse
The Hino Liesse (kana:日野・リエッセ) is a step-floor minibus built by the Japanese automaker Hino Motors from 1995 to 2011. The range was primarily available as a city bus and a tourist coach.
Models
KC-RX4JFAA (1995)
KK-RX4JFEA (1999)
PB-RX6JFAA (2004)
BDG-RX6JFBA (2007)
KC-HZB/HDB/BB40/50 (1996)
KK-HZB/HDB/BB40/50 (1999)
PB-XZB40/50 (2004)
BDG/PDG-XZB40/50 (2007)
SDG/SKG-XZB70/70M (2017)
Isuzu Journey
The Isuzu Journey (kana:いすゞ・ジャーニー) is a minibus produced by the Japanese manufacturer Isuzu since 1970, and in 1973 in its current somewhat larger format. The range was primarily available as a city bus and a tourist coach. In Japan, the Asia-Pacific region, the Middle East, Africa, and South America, its principal competitors are the Mitsubishi Fuso Rosa, Mazda Parkway, Nissan Civilian, and Toyota Coaster. The current W41 series Journey was based on Civilian.
The first use of the "Journey" nameplate was on the 1970 "Journey S". This was an Isuzu Elf 150 truck with a 15-seater bus rear and has a KA5#B chassis code. The Elf had been available as a compact bus since 1964 but was originally still called an Elf. This was replaced in 1981 by the more space efficient and lighter Isuzu Fargo series.
In 1973, the 26-seater Journey M (on an Elf 250-basis) and the longer 29-seat Journey L (Elf 350) were manufactured with diesel engines of 2.8 and 3.6 litres respectively. These engines were later upgraded to more powerful, cleaner units. A much larger (53 seats) rear-engine bus called Journey K appeared in 1972 and was replaced by the Isuzu Erga Mio in 1999. There was also a light duty Journey E, which is still made on the Elf basis but with bodywork supplied by an outside firm. The Journey L and M were replaced by a rebadged Nissan Civilian in 1993. The Isuzu Journey W40 and W41 are rebadged Nissan Civilian models.
Model Listing
BE/BL/BM Series (1973-1993)
K Series (1972-1999)
W40 Series (1993-1999)
W41 Series (1999–present)
GMK (Chevrolet) BLD24
GM Korea (Chevrolet) BLD24 was a licence made from Isuzu Journey M series Micro Bus.
GM Korea reentered micro bus division after taking over from Shinjin Motors in May 1973 which it continues to have the capacity of 25 passengers. This model also equip with the Isuzu's 74 metric horsepower C240 4-cylinder diesel engine. Only 121 were made before they discontinued on September 1974.
(in Korean)

 새한 BL

(in Japanese)

 いすゞ・ジャーニー: 2代目(1973-1993年)

(in Korean)

 기업연혁: G.M코리아 (Daewoo Bus Company History: GM Korea)

(in Korean)

 연혁: 1970~1980년대 (Daewoo Bus Company History: 1970-1980's) (Marquee picture of GMK BLD24)
Zyle Daewoo Bus History: 1970S/1980S (Marquee picture of GMK BLD24)

(in Korean)

 대우 자동차, 이름, 뜻,종류 (Engine Layout [Saehan BL064])

(in Korean)

 GMK버스 Chevrolet BLD24, Chevrolet BD50DL 차종에 대하여 [안정섭님께] (GMK (Chevrolet) BLD24 body dimension and its engine output)
External links
MCW Metrorider (also termed a midibus)
The MCW Metrorider, launched at the 1986 Motor Show, was a minibus designed built by Metro Cammell Weymann (MCW) between 1986 and 1989. Constructed in two lengths, 7.0 m and 8.4 m, the Metrorider was an integral bus, marking it out from its van-based rivals of the time.
It was the second purpose-built minibus design (after the rather lightweight VW-based Optare CityPacer). MCW used beefy substantial components, the Perkins Phaser/ZF manual S5 driveline soon being outsold by the "optional" 115 bhp six-cylinder 5.9 litre Cummins B series engine driving through an Allison fully automatic gearbox. Some Metroriders also featured the optional turbocharged Cummins engine, increasing further their already impressive turn of speed. Disc brakes are fitted all round on the longer Metrorider, as opposed to drums on the short vehicles.
The styling was a major advance on the earlier van-based conversions, having a raked front with large windscreen and side windows to give a light interior. With shallower steps, wider entrance, and generous headroom, the passenger environment was certainly a great improvement on what had come before, with up to 25 (or 33 in the long version) seats comfortably accommodated. However, although the structure appeared to be of a heavyweight construction, long versions soon suffered weaknesses in the extended rear overhang and, in time, major corrosion set in, resulting in a life not quite as lengthy as might have initially been expected. The long-wheelbase version of the Metrorider measures 8.4m or 27′ 6″ in length, while the wide body was built to 2.375m or 7′ 9½" wide, significantly broader than van conversions, allowing wider seats and/or gangway.
Like many MCW products, many components were from other manufacturers' stocks and the Metrorider used many parts from Ford. The dashboard and steering wheel came from a Ford Cargo lorry and the original rear lights were from the Escort Cabriolet Mk4.
The design suited one-person bus operation well and, despite the somewhat simplistic styling, the Metrorider sold in large numbers in the United Kingdom. Also, a number of Metroriders were exported new to Continental Europe and Hong Kong.
When MCW's parent group announced the closure of the company in 1989, MCW's current designs were offered for sale and the rights to the Metrorider were bought by Optare. The Optare MetroRider (as it was subtly re-branded) was subsequently re-launched and continued in production till 2000.
Nissan Diesel RN
The Nissan Diesel RN (kana:日産ディーゼル・RN) is a one-step light-duty bus produced by the Japanese manufacturer Nissan Diesel from 1996 until 2003. The range was primarily available as city bus.
KC-RN210CSN (1996) – FE6E engine (195ps)
KK-RN252CSN (1999) – FE6F engine (205ps)
The Nissan Civilian (kana: 日産・シビリアン, Shibirian) is a single-decker minibus built by the Japanese automaker Nissan since 1971. It is primarily available as a public bus and an intercity bus. In Japan, it was exclusive to Nissan Store locations, and replaced the Nissan Echo which had been introduced in 1958. The Echo's chassis code (GC140, GC240) continued to be used on the Civilian (GC340) and reflected their shared underpinnings with the Nissan Caball (C140/240/340). In Japan, Asia-Pacific, Mid-East, Africa, South America, its principal competitors are Mitsubishi Fuso Rosa, Isuzu Journey, Mazda Parkway and Toyota Coaster. In China, the Nissan Civilian is marketed by Dongfeng as the Dongfeng Green Lotus but uses the Nissan logos. The Nissan Civilian has been in production in Japan since 1959.
FToday, it is available in a 26 to 30 seating capacity. As seen in the Nissan Civilian bus specifications, this bus is the epitome of passenger comfort.
How Much is a Used Nissan Civilian Bus?
The price of a Nissan Civilian bus 2002 model starts from $8,000 on average. It is very comfortable for the driver as well as passengers. The driver controls are easy to reach, air conditioning for both the driver and passengers, and an AM/FM radio. There is also enough cabin storage for the driver to access logbooks and other items easily.
Interior & Exterior
High back seats for the passengers ensures total comfort. Rear air-conditioning and extra headspace also make riding in this bus memorable. The standard seating is for 26 passengers, but it is also possible to buy Nissan Civilian models with 30 seats. Additionally, 3-point seat belts for passengers enhance safety and confidence, and large windows give a nice view of the outside as the bus makes its way to its destination.
Other exterior features of the Nissan Civilian include automatic double-sliding or folding doors. Some later trims also come fitted with fog lights, halogen headlights, and reverse camera. The rear boot also features a secure door, with plenty of overhead stowage that provide plenty of storage space for passengers' belongings.
Engine & Fuel Efficiency
The average fuel consumption of the Nissan Civilian is around 13 liters per 100 km, with a fuel tank capacity of 107 liters. The popular Nissan Civilian 2002 model is powered by a 4.1 liter, 6-cylinder diesel engine, which is mated to a 5-speed manual or automatic transmission.
Best Suited For
The sturdiness and reliability of the Nissan Civilian allows it to be used for offering public bus transport services. It can also be used as a tour bus in countries like South Africa, Tanzania and Kenya because of its large sitting capacity. Its large fuel tank capacity also allows for longer excursions into game parks.
Mitsubishi Fuso Rosa
The 1st generation of the Mitsubishi Rosa came onto the market in 1960, and it is now in its 4th generation. At that time, the factory was coded as B10 and developed from the chassis of the original Mitsubishi Jupiter T10 truck. Its body style is similar to the Mercedes-Benz O 319 minibus, with a length of approximately 5.4 meters.
In the following year (1961), Mitsubishi evolved to B20 on the basis of B10, which is an extended version of B10, which ranges from 6.25 to 7 meters in length.
This bus has been facilitating public transport in Euro-Asia, Australasia, Africa and other places. Looking at the specifications of the Mitsubishi Rosa Bus, it is easy to see why.
How Much is a Used Mitsubishi Rosa Bus?
The price of the popular 1998 model of the Mitsubishi Rosa starts from around $9,000. Some of the interior features to look forward to include power steering, driver airbag, multi-adjustable driver's seat, and an AM/FM radio (sometimes with CD player).
Interior & Exterior
The Mitsubishi Rosa's interior is a display of comfort. Air conditioning, overhead rack for passengers' luggage, and reasonable headspace make the bus feel very roomy. Depending on whether you get the short or long chassis version, this bus can accommodate anywhere from 16 to 25 people. The high back seats are also very comfortable.
The exterior of the Mitsubishi Rosa is characterized by large windows, which make it perfect for use as a tour bus. Being bigger than the Toyota Coaster, it also works well for commercial purposes as a sightseeing or tourist bus.
Engine & Fuel Efficiency
The Mitsubishi Rosa's engine specifications are not very different from those of similar buses. It comes with a 4.9-liter, 4-cylinder engine that can produce 110W of power. The fuel tank capacity is 100 liters, with fuel consumption at an average of 5.9km/l for both highway and city driving.
Best Suited For
Used Mitsubishi Rosa buses manufactured in Japan are bigger than the Toyota Coaster. The Rosa also sports a bigger fuel tank too, making it perfect for long-distance journeys. Additional interior comforts like tiltable seats for passengers also ensure comfort for any kind of adventure.
Toyota Coaster
The Toyota Coaster (Japanese:トヨタ・コースター, Toyota Kōsutā) is a single-decker minibus produced by Toyota Motor Corporation. It was introduced in 1969, with the second generation introduced in 1982, followed by the third generation in 1993 and the fourth generation in late 2016. In Japan, the Coaster is sold exclusively at Toyota Store dealerships. Since 1996, the Toyota Coaster is also sold under the name Hino Liesse II. In Japan, the Coaster was formerly produced by Toyota Auto Body at its Yoshiwara plant. In December 2016, after the launching of a revised Coaster, production was transferred to the Honsha plant of a Toyota Auto Body subsidiary, Gifu Auto Body. A number of unlicensed clones of third generation Coasters have been (and are still) made in China, including Jiangnan Motors' JNQ5041/JNQ6601, Joylong Motors' HKL6700, Golden Dragon's XML6700 and Sunlong Bus' SLK6770
The interior and exterior specs of the Toyota Coaster are very impressive. This bus has a large sitting capacity, and it can also be used as a recreational vehicle. The 1st generation of the Coaster was released in 1969, with the 2nd following in 1982, and the 3rd in 1993. The 3rd generation Toyota Coaster received face-lifts in 2001 and 2007, which gave it a more modern look. The 4th (current) generation of the Toyota Coaster was released in 2017.
How Much is a Used Toyota Coaster?
A 3rd generation, 2001 Toyota Coaster bus costs about $15,000. Older models cost less than that, while newer models cost considerably more. On average, the price can be anywhere between $5,000 and $15,000 depending on the generation and model year.
Interior & Exterior
The Toyota Coaster interior is spacious. Features like air conditioning, automatic doors, and power steering add to its convenience and make every ride a comfortable one. One of the most notable specs of the Toyota Coaster is that it can seat up to 21 people. However, when comparing the Toyota Coaster to the Mitsubishi Rosa, you will find that the Rosa has most of the time outsold the Coaster in the 20-plus-seat bus category.
The interior of the Toyota Coaster is made for the comfort of the driver and the passengers. Vinyl seats, pocket storage on the back of every seat, a lot of headspace, 3-point seat belt for every passenger, and even air conditioning make the ride very comfortable. It also comes with an AM/FM radio, four speakers, and in the latest models, there are CD and MP3 outlets. In the exterior, good ground clearance, exemplary body trims, a low step for the passengers and a hydraulic door are some of the convenient features. Large windows ensure your passengers will enjoy the outside views.
Engine & Fuel Efficiency
The Toyota Coaster features a 4-cylinder diesel injection engine, 95-liter fuel tank, a lot of power, and an average fuel economy of 7.7km/l that shows you this bus is prime and ready for all kinds of public transport businesses.
Best Suited For
When comparing the Toyota Coaster to the similar Nissan Civilian, you will find that both of these buses are made for travel on paved roads, but are not good for off-road driving. If you are in the private or public transport business and plan on sticking to paved urban areas, the Coaster may be perfect for you.
Hino Rainbow
The Hino Rainbow bus has been in production since 1980, and this mid-sized bus can be used for different kinds of transport services. In Africa, it can be used as a passenger transport vehicle. In Australia, Asia-Pacific, and some parts of Europe, it is often used as a tour coach.
How Much is a Used Hino Rainbow?
A 1989 Hino Rainbow is priced from around $3,000, making it the cheapest used bus on this list. However, more recent models come with a higher price. Driver and passenger comfort are assured, with the driver's seat in particular being adjustable in several ways. Power steering, lots of cabin storage, an automatic passenger door, and other features add to this bus's convenience.
Interior & Exterior
The exterior of this mid-sized bus is characterized by a boxy look. Many reviews from Australia and Europe say that because of this design, it is easier to convert the Hino Rainbow into a motor home. The passenger door has a lowered step to allow easy access and alighting. There is no overhead stowage for passengers, but the bus has a rear boot to fit luggage and cargo.
The average seating capacity is 16 to 25 passengers, but the bigger Hino Rainbow coaches can fit up to 57 passengers. Big windows and a large windscreen increase visibility for the driver, as well as for the passengers. A spacious glove compartment located at the center of the dashboard is also a good storage option for the driver.
Engine & Fuel Efficiency
The 1989 model of the Hino Rainbow bus offers an average fuel consumption of around 7km/l. The engine is typically a 7-liter, 5-cylinder diesel type, with a displacement of 7,960cc. It is mated to a 5-speed manual transmission and a 2-wheel drive train. However, note that some Hino Rainbow models come with turbo diesel engines while others are non-turbo.
Best Suited For
The specs of the Hino Rainbow indicate that this bus is a good option for public transport over short urban routes. It could also work well as a transport minibus for companies that pick up and drop off their employees at designated points. At 22 feet long, it is also easy to park in most places.
Karsan J9 Premier(Similar-looking ancestor Peugeot J9 is a van conversion)
The Peugeot J9 is a van manufactured by Peugeot from January 1981 until 1991. It was also manufactured under license by Karsan, in Turkey, from 1981 until 2010. It was facelifted in 1991, and in 2006, Karsan released the restyled J9 Premier.
 Production ended in 2010 when the J9 was replaced by the closely related Karsan J10. When first introduced, the J9 had 1.6 or 2.0 litre petrol engines, or the familiar Indenor diesel engines of 2.1 or 2.3 litres. Late in the French production run, the 2.5 litre diesel engine also became available.
Karsan J10
The Karsan J10 is a minibus produced by the Turkish manufacturer Karsan from 2010 to 2015. It is the successor of the Karsan J9 Premier that was based on the platform of the 1980s' Peugeot J9.
 It is available in three capacity versions, with 14, 17 or 20 seats, and is powered by a 2.3-liter common rail engine from Iveco, developing 96 hp (72 kW) and 240 N⋅m (180 lb⋅ft). Two length options are available, 3.3 metres (10.8 ft) or 3.8 metres (12.5 ft), both with a GVWR between 4.1 and 4.3 tonnes. Standard equipment includes ABS, EBD, automatic rear doors, sunroof, electric windows, central locking and optional, air conditioning
Hyundai County
The Hyundai County (hangul:현대 카운티) is a single-decker minibus manufactured by the truck & bus division of Hyundai. It was introduced in 1998 as a successor to the Chorus. It is primarily available as city buses and tourist buses. It is related to the now-discontinued Kia Combi. Hyundai County & e-County are designed by Hyundai Motor Company Jeonju Design Center. The County was built between 1998 and 2004, a new variant e-County was built since 2004.
First facelift held in 2008. Minor change model was revealed in 2012 Busan Motor show. EV spec called 'County Electric' was revealed in 2019 Hyundai Truck & Bus Business Fair with Hyundai Pavise. And facelifted version launched in May 2020 as 'County New Breeze'. It's design was based on Chinese Spec which was revealed in 2015 Auto Shanghai.
Model name (South Korea)
Gold
Tour (Rent A Car Bus)
Super
Deluxe
Standard
Lineup & body types
County short body: 16/25 passengers
County long body: 25/40 passengers
County long body Limousine: 12/25 passengers
Daewoo Lestar
Dignity & Composure- Only a first class luxury car can allow you. Four season scenic view with large glass, spacious and comfortable interior with the highest inside in the same segment.
Renault Dodge S56
The Dodge 50 Series, later known as the Renault 50 Series, were light commercial vehicles produced in the UK by Chrysler Europe and later Renault Véhicules Industriels between 1979 and 1993 as a replacement for the earlier Commer FC series of full-size vans. The Dodge 50 series used the same cab as the Dodge B-Series vans, however, in a modified state, made for European regulations. The 50 series included a wide range of chassis and body configurations, including two distinctly different cab designs, and spanned the 3,500–7,500 kg (7,700–16,500 lb) revenue weight range. Various engines were offered, including the Perkins Phaser and 4.236.
The RB44, a four-wheel-drive version based loosely on the Dodge van, was built by Reynolds Boughton (now known as Boughton Engineering) in the early 1990s.
Low floor minibuses
Following the development of low-floor technology, some low-floor purpose built minibuses have been created. Some offer a low floor access through a centre door. Some short versions of low floor midibuses are sometimes also called minibuses.
Orion International "Orion II"
Orion Bus Industries, formerly Ontario Bus Industries in Canada and Bus Industries of America in the United States, was a privately owned bus manufacturer based in Mississauga, Ontario, Canada. Until 1995, the word Orion was only a model or brand name, not part of the company's name. It was renamed DaimlerChrysler Commercial Buses North America in 2006, but continued to market its products under the Orion name. The company had its main manufacturing plant in Mississauga and sent bus body shells to their plant in Oriskany, New York, for final assembly and testing of vehicles destined for U.S. markets. Manufacturing ended in 2013.
Mitsubishi Fuso Aero Midi ME
The Mitsubishi Fuso Aero Midi (kana: 三菱ふそう・エアロミディ) is a step-entrance, low entry and low floor midibus produced by the Japanese manufacturer Mitsubishi Fuso since 1988. It is primarily available as public buses and sightseeing buses ranged from lengths of 7.0m to 10.1m. The range can be built as either a complete bus or a bus chassis.
The Mitsubishi Fuso MK Series was built between 1974 and 1988. The Aero Midi appeared in 1988 after the replacement for the MK Series. The Aero Midi ceased production in 2007 and replaced by the Aero Midi-S in 2008. After the Aero Midi-S ceased production in 2010, production of the Aero Midi city bus recommenced in the following year. The Mitsubishi Fuso Aero Midi is the low entry and smaller version of the low floor Mitsubishi Fuso Aero Star city bus.
Optare Solo (termed a midibus)
The Optare Solo is a low-floor minibus/midibus with one or two doors manufactured by Optare in the United Kingdom since 1998. The Solo name is a play on its low-floor status, the manufacturer marketing its vehicle as having an entrance that is "so low" from the floor, namely 200 mm (8 in) with kneeling suspension. In January 2012 Optare announced the end of production for the original Solo design with a modified Solo SR taking over.
The original innovative design, featuring a front axle ahead of the entrance door, gained a Millennium product award, along with a Queen's Award for Enterprise.[1] 3,857 original model Solos were built between 1998 and 2012.[2] As of April 2017, almost 1,500 Solo SRs had been built.
Optare Alero
The Optare Alero is a low-floor GRP monocoque minibus that was built by Optare between 2001 and 2008. It was built as an alternative to van-derived buses such as the Mercedes-Benz Sprinter.
Around 300 were built in the first five years of production. The primary markets for the Alero have been community transport groups and rural demand responsive bus routes.
Hino Poncho (1st generation front-engined, 2nd rear-engined)
The Hino Poncho (日野・ポンチョ) is a low-floor minibus produced by Hino Motors through the J-Bus joint-venture
Nissan Diesel RN (some models have a low floor middle entrance)
The Nissan Diesel RN (kana:日産ディーゼル・RN) is a one-step light-duty bus produced by the Japanese manufacturer Nissan Diesel from 1996 until 2003. The range was primarily available as city bus.
Bluebird Tucana (full length low flat floor from Bluebird Vehicles Ltd)
The Mellor Tucana (previously known as the Bluebird Tucana) is a small wheelchair-accessible minibus manufactured by Mellor Coachcraft in England.
Bluebird Auriga (tri-axle design)
VW Bluebird Auriga Motorhome or race vehicle. Tag 2 Axle, Diesel, Automatic, reg in 2008 on a 57 plate. Low Mileage of 79,600. V5 Registered as a'Motorhome. Air suspension, Vehicle Idolater. Professionally converted in 2016/1017, receipts for work carried out. Bodywork is good but like any vehicle this age it has marks. All windows have been tinted for privacy. Living area has sink, twin hob, marine fridge, shower room with basin and toilet. Water via water carrier and immersible pump.
Mercedes-Benz Sprinter
The Mercedes-Benz Sprinter is a light commercial vehicle (van) built by Daimler AG of Stuttgart, Germany as a large van, chassis cab, minibus, and pickup truck. In the past the Sprinter has been sold under the Mercedes-Benz, Dodge, Freightliner, and Volkswagen nameplates. In the U.S. it is built from complete knock down (CKD) kits by Freightliner. They are now primarily marketed by Mercedes-Benz. Re-badged and re-engined Sprinters were also sold by Volkswagen Commercial Vehicles as the Volkswagen LT and the Volkswagen Crafter.
Karsan Jest
Karsan Jest is a low-floor minibus produced by Turkish automobile company Karsan. Karsan Jest started production 2013, and its design was made by Karsan affiliate Hexagon Studio. The production of Karsan Jest is based in Bursa, Akçalar. %70 of the parts in the bus are produced in Turkey.
Regional MiniBus variants
There are many different form of public transportation services around the world that are provided by using vehicles that can be considered as minibus:
Chiva bus in Colombia and Ecuador
A chiva (Spanish for goat) or escalera (Spanish for ladder and stairs) is an artisan rustic bus used in rural Colombia. Chivas are adapted to rural public transport, especially considering the mountainous geography of the Andean region of these countries. The buses are varied and characterized by being painted colorfully (usually with the yellow, blue, and red colors of the flags of Ecuador and Colombia) with local arabesques and figures. Most have a ladder to the rack on the roof which is also used for carrying people, livestock and merchandise.
They are built upon a bus chassis with a modified body made out either metal or wood. Seats are benchlike, made out of wood and with doors instead of windows. The owner or driver usually gives the vehicle a unique nickname. In Panama, the term Chiva is used to describe a Toyota Coaster or another similar bus operating in a manner similar to a Chicken bus. Unlike Chicken buses, Chivas are often painted white.
Colectivo in southern South America
Colectivo (English: collective bus) is the name given in Argentina, Colombia, Chile and Paraguay to a type of public transportation vehicle, especially those of Argentina's capital city, Buenos Aires. The name comes from vehículos de transporte colectivo ("vehicles for collective transport"), reflecting their origin as shared taxis.
When they first appeared in the 1920s, colectivos were small buses built out of smaller vehicle chassis (cars, vans, etc.) and, later, out of truck chassis (1950–1990, by Mercedes-Benz Argentina), not specifically designed for the transportation of people, and were decorated with unique hand-painted drawings (fileteado) that gave each unit a distinct flavor. They steadily evolved and grew larger, but kept their picturesque style until the 1990s, when the urban fleet was modernized with standard rear-engined bus units. During most of their history, tickets were sold by the driver, who would drive off as soon as all passengers had boarded, selling tickets while driving.
Community bus (Japanese コミュニティバス) in Japan (Include minibus and midibus
A midibus is a classification of single-decker minibuses which are generally larger than a traditional minibus but smaller than a full-size single decker and can be anywhere between 8 metres (26 ft 3 in) and 11 metres (36 ft 1 in) long. While used in many parts of the world, the midibus is perhaps most common in the United Kingdom, where operators have found them more economical, and to have a sufficient number of seats compared to full size single-decker buses.
Midibuses are often designed to be lightweight to save on diesel fuel (e.g. smaller wheels than on larger buses), making them not as durable as heavier 'full size' buses. Some midibuses, such as the Scania OmniTown, are heavier and therefore more durable. In some places such as Hong Kong, some bus routes have to be served by midibuses due to the winding roads along such routes.
Dala dala in Tanzania
Dala dala are minibus share taxis in Tanzania. Often overcrowded and operated at unsafe speeds, these minibuses developed as a response to an insufficient public transport system in the country. While the name may be a corruption of the English word "dollar", they are also referred to as thumni. Before minibuses became widely used, a truck with benches placed in the bed was the typical Tanzanian privately owned public transport. Called chai maharagwe, these were popular c. 1990.
While dala dala may run fixed routes picking up passengers at central locations, they will also stop anywhere along their route to drop someone off or allow a prospective passenger to board. In contrast to most of these minibuses, in Dar es Salaam some dala dala are publicly operated as of 2008
Dollar van a.k.a. jitneys, in the United States.
A dollar van (also known as a jitney) is a privately owned type of bus service used to carry passengers in the United States. Dollar vans are typically modified passenger vans, and often operate in urban neighborhoods that are under-served by public mass transit or taxis. Some of the dollar vans are licensed and regulated, while others operate illegally. Passengers may board them at designated stops along their route or hail them as share taxis.
Both common names – dollar van and jitney – originated similarly. Jitney is an archaic term for an American nickel, the common fare for early jitneys. In the late 20th century, when a typical fare was one dollar, the corresponding name came into usage, though "jitney" is still also common. Dollar vans are often owned and used by members of inner-city communities, such as African/Caribbean American, Latino, and Asian-American populations. Travelers cite cost and greater frequency as factors in choosing jitneys over larger bus service, whereas safety and comfort are cited for choosing buses.
Dolmuş in Turkey
In Turkey and Northern Cyprus, dolmuş (pronounced [doɫmuʃ]) are share taxis that run set routes within and between cities. Their name is derived from Turkish for "seemingly stuffed" referencing the fact that in days past these taxis were often filled to the brim. They depart from the terminal only when a sufficient number of passengers have boarded.
In some cities dolmuş are only allowed to board and disembark passengers at designated stops or at terminals; in less busy locations passengers may board anywhere along the route. In fact, a dolmuş with empty seats may slow to a crawl in the hopes of picking up a few more riders. A foreign passenger described the ride as being "terrifying, awe-inspiring, confusing, incomprehensible, charming, hospitable and alien", and those unfamiliar with them may be surprised by the speed of dolmuş travel. In Turkey the vehicles used are often brand-new minibuses, but in some parts of Cyprus – as of 2009 – aging Mercedes-Benz stretch limos serving as dolmuş can still be seen
Jeepney in the Philippines
Jeepneys (Filipino: Dyipni), sometimes called simply jeeps (Filipino: dyip), are buses and the most popular means of public transportation ubiquitous in the Philippines. They are known for their crowded seating and kitsch decorations, which have become a widespread symbol of Philippine culture and art. A Sarao jeepney was exhibited at the Philippine pavilion at the 1964 New York World's Fair as a national image for the Filipinos.
Jeepneys originate from the American colonial period share taxis known as auto calesas, commonly shortened to "AC". These evolved to modified imported cars with attached carriages in the 1930s which served as cheap passenger utility vehicles in Manila. These vehicles were mostly destroyed in World War II. The need for replacement transport vehicles led to the use of U.S. military jeeps left over from the war, which became the template for the modern jeepney. The word "jeepney" is a portmanteau of "jeep" and "jitney", both words common slang in the popular vernacular of the era: "jitney" being a popular term for an American taxicab, and "jeep" a newly coined term to describe a type of military vehicle (origin debated). Most jeepneys are used as public utility vehicles. Some are used as personal vehicles. Jeepneys are used less often for commercial or institutional use.
Maeul-bus (Korean 마을버스) in South Korea
Maeul Bus is a local bus that runs shorter routes compared to other buses in Seoul. Many of these routes include residential areas. The Maeul Bus is also smaller in size compared to other buses in Seoul.
| Maeul Bus (Local Bus) Fares | Transportation Card (T-Money) | Cash |
| --- | --- | --- |
| Adults | 900 won | 1000 won |
| Teenagers | 480 won | 1000 won |
| Children | 300 won | 300 won |
Marshrutka in eastern Europe.
Marshrutka (Russian and Ukrainian: маршру́тка [mɐrˈʂrutkə], from marshrutn[oy]e taksi) or routed taxicab, is a form of public transportation such as share taxi which originated in Soviet Russia and is still present in Russia and other countries of CIS, in Baltic states, Bulgaria, Georgia, Turkmenistan, Ukraine and Armenia. The role of the modern marshrutka is theoretically similar to the share taxi, which uses minibuses in some other countries. The first marshrutka was introduced in Moscow, Russia in 1938.
Matatu around Kenya
In Kenya matatu (known as mathree in Sheng) or matatus are privately owned minibuses, although pickup trucks and estate cars were in the past pressed into service as these Kenyan share taxis. Often decorated, many matatu feature portraits of famous people or slogans and sayings. Likewise, the music they play is also aimed at quickly attracting riders.
Although their origins can be traced back to the 1960s, matatu saw growth in Kenya in the 1980s and 1990s, and by the early 2000s the archetypal form was a (gaily decorated) Japanese microvan. C. 2015, larger, bus-sized vehicles also started to be pressed into service as matatu. The name may also be used in parts of Nigeria.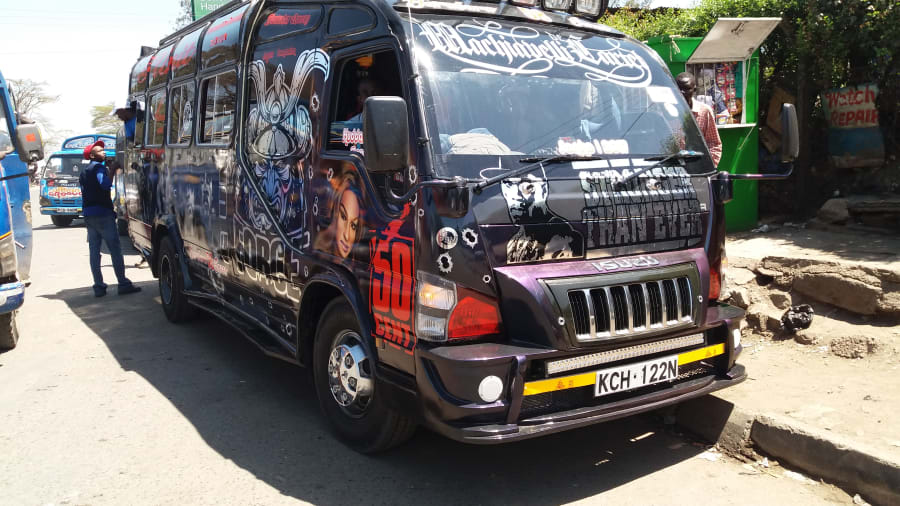 These minibuses ply set routes, run from termini, and are used for both inter- and intra-city travel. In addition to a driver, matatu may be staffed by a conductor, locally known as a makanga or manamba or donda. As of 1999, they were the only form of public transport available in Nairobi, Kenya, although in 2006 and 2008 this was no longer the case. Over the years, stiff competition is being experienced from bus-sharing applications such as SWVL
Minibus taxi in South Africa, Ethiopia, see also Taxi wars in South Africa
A share taxi (also called shared taxi) is a mode of transport which falls between a taxicab and a bus. These vehicles for hire are typically smaller than buses and usually take passengers on a fixed or semi-fixed route without timetables, but instead departing when all seats are filled. They may stop anywhere to pick up or drop off their passengers. Often found in developing countries, the vehicles used as share taxis range from four-seat cars to minibuses. They are often owner-operated.
In some terms share taxis can also be referred to as taxibuses since they play a role of taxis where the destination is selected by the rider as opposed to routed buses which travel on a route that is assigned by the transit operator. The UITP term "informal transport" includes share taxis.
Pesero, minibuses operating as regular buses in Mexico, especially in Mexico City.
A pesero, combi, micro or microbús is a form of public transport, most commonly seen in Mexico City. Its name derives from the fact that in the beginning of this form of transport a flat fee of one peso was charged per ride (hence the name "pesero" which could be interpreted as "peso collector").
Public light buses, in Hong Kong.
The public light bus or minibus is a public transport service in Hong Kong. It uses minibuses to serve areas that standard Hong Kong bus lines cannot reach efficiently. The vehicles are colloquially known by the code-switch Van仔 (Van Jái) literally "van-ette".
Depending on the type of vehicle, minibuses carry a maximum of 16 or 19 seated passengers; no standing passengers are allowed. Minibuses typically offer a faster and more efficient transportation solution due to their small size, limited carrying capacity, frequency and diverse range of routes, although they are generally slightly more expensive than standard buses. The popularity of minibus services in Hong Kong can be attributed to its high population density, as well as its ability to enter neighbourhoods where standard buses cannot.
Sherut in Israel
A share taxi (also called shared taxi) is a mode of transport which falls between a taxicab and a bus. These vehicles for hire are typically smaller than buses and usually take passengers on a fixed or semi-fixed route without timetables, but instead departing when all seats are filled. They may stop anywhere to pick up or drop off their passengers. Often found in developing countries, the vehicles used as share taxis range from four-seat cars to minibuses. They are often owner-operated.
In some terms share taxis can also be referred to as taxibuses since they play a role of taxis where the destination is selected by the rider as opposed to routed buses which travel on a route that is assigned by the transit operator. The UITP term "informal transport" includes share taxis.
Songthaew around Thailand
A songthaew (Thai: สองแถว, lit. 'two rows', RTGS: songthaeo, pronounced [sɔ̌ːŋ.tʰɛ̌w];[1] Lao: ສອງແຖວ, [sɔ̌ːŋtʰíw]; Malay: dua baris) is a passenger vehicle in Thailand and Laos adapted from a pick-up or a larger truck and used as a share taxi or bus.
Tap tap in Haiti
Tap taps are gaily painted buses or pick-up trucks with metal covers that serve as share taxis in Haiti. They may also be referred to as camionette. Literally meaning "quick quick", these vehicles for hire are privately owned and ornately decorated. They follow fixed routes, won't leave until filled with passengers, and riders can disembark at any point in the journey.
Tro tro around Ghana
In Ghana and neighboring countries tro tros are privately owned minibus share taxis that travel fixed routes leaving when filled to capacity. While there are tro tro stations, these vehicles for hire can also be boarded anywhere along the route. Operated by a driver and a conductor (who collects money, shouts out the destination, and can also be called a "mate"), many are decorated with slogans and sayings, often religious. Fewer tro tros operate on Sundays. The term is believed to derive from Ga tro, "threepence", the conductors usually asked of tro tro "three three pence" formerly the standard fare around 1940s in the era of the British West African pound and Ghanaian pound.
Weyala in Ethiopia
A weyala (Amharic: ወያላ) is a conductor who receives fares on minibus share taxis in Ethiopia. He also has the duty of informing potential passengers of the destination they are heading and the price they need to pay, and informing the taxi driver to stop when a passenger wants to disembark. They also collect the appropriate price from the passenger as the taxi is moving and generally keeping the law on board the minibus taxi. Weyalas can be from various age groups, and in recent times, women have been known to work as weyalas.
Was this article helpful?