List Of Research Institutions In Kenya. A research institute, research centre, or research center is an establishment founded for doing research. Research institutes may specialize in basic research or may be oriented to applied research. Although the term often implies natural science research, there are also many research institutes in the social science as well, especially for sociological and historical research purposes.
he list focuses on both public and private research institutions which conduct research activities in diverse fields and thematic areas.
Below is a list of research institutions in Kenya.
Public Research Institutions
The KEMRI–Wellcome Trust Research Programme is a partnership between the Kenya Medical Research Institute, the Wellcome Trust and the University of Oxford. The Programme has grown from a small group to a facility hosting over 100 research scientists and 700 support staff working across Kenya, Uganda and the region.
KEMRI-Wellcome Trust Research Programme
P.O Box 43640 – 00100,
197 Lenana Place, Off Lenana Road
next to Cedars Restaurant
Nairobi, Kenya.
Phone : +254 730 162110 / + 254 730 162 000
Email info@kemri-wellcome.org
Vision 2030 also places great importance on value addition in agriculture and livestock as a means of raising rural household incomes as captured by the sector's driving strategy, the Agricultural Sector Development Strategy 2010-2020. In implementing the second medium term plan the Kenya Government reformed the National Agricultural Research Systems through creation of the Kenya Agricultural and Livestock Research Organization (KALRO). Its formation was aimed at restructuring agricultural and livestock research into a dynamic, innovative, responsive and well-coordinated system driven by a common vision and goal. KALRO is a corporate body created under the Kenya Agricultural and Livestock Research Act of 2013 to establish suitable legal and institutional framework for coordination of agricultural research in Kenya
Director General,
Kenya Agricultural & Livestock Research Organization,
Kaptagat Rd, Loresho Nairobi Kenya
P.O. Box 57811, City Square, Nairobi, 00200, Kenya
Email: info@kalro.org
Safaricom: +254 722206986/722206988
Airtel: +254 733-333-223/733333224/733333299/736333294
Fibre Lines:  0709 104000-60 (Safaricom) – 0730 707000-60 (Airtel)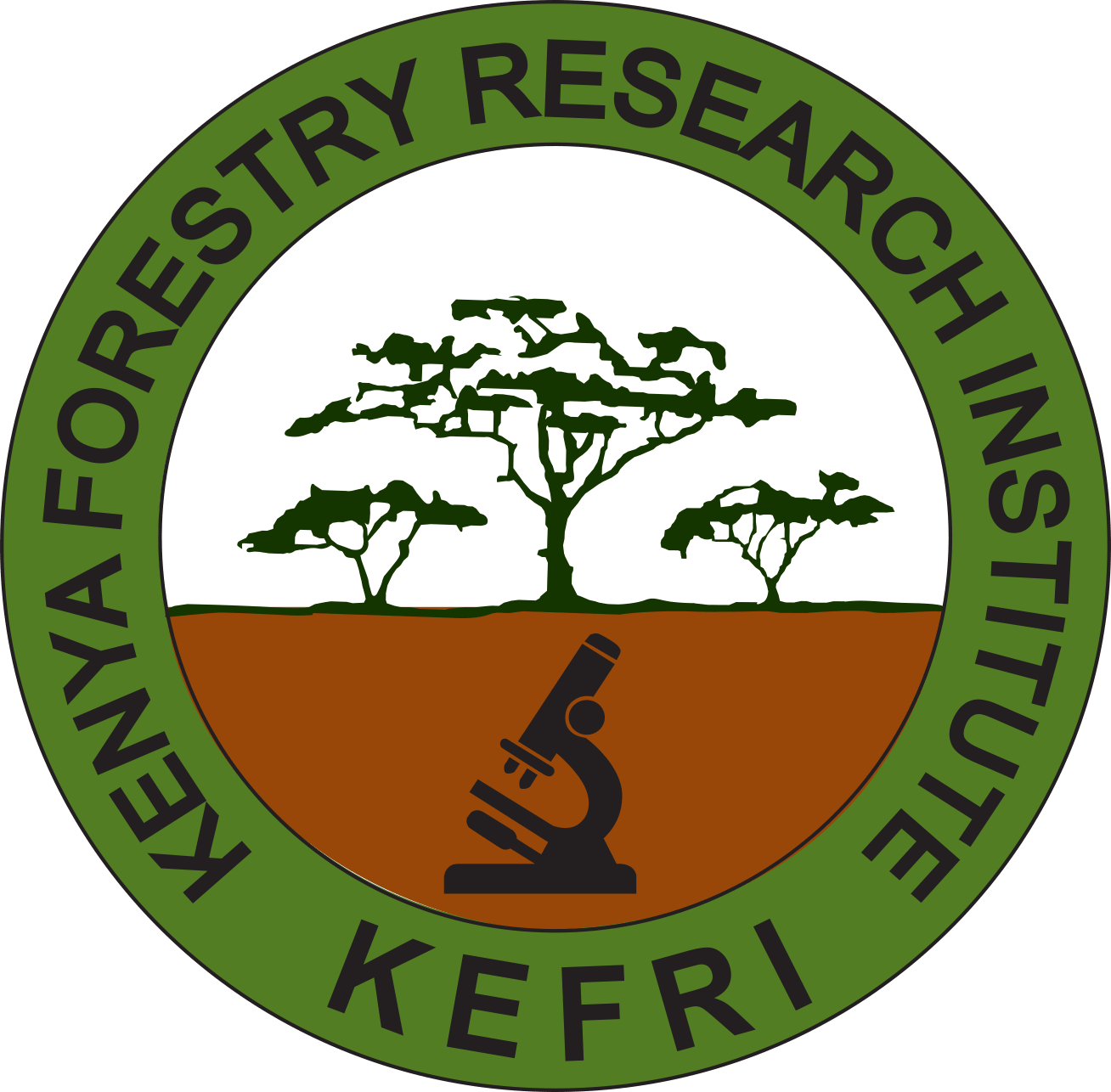 KEFRI undertakes research and provides technologies and information for sustainable management, conservation and development of forests and allied natural resources. The Institute is ISO 14001:2015 Environmental Management Systems (EMS) and ISO 9001:2015 Quality Management Systems (QMS) certified and therefore conforms to international standards on environmental and quality management and relevant national legislations and its research meets international standards.
Forestry research in Kenya was started in 1934 as a unit of the then Forest Department. The unit later became a research branch focusing on applied research on forest silviculture, entomology, pathology and wood utilization. In 1948, the East Africa Agricultural and Forestry Organization (EAAFRO) was established in Muguga under the East Africa High Commission to undertake regional research including; tree breeding, forest pathology, forest entomology and catchment hydrology. In 1973, the research branch was transformed into a Research Conservancy of the Forest Department of EAAFRO.
20412-00200 Nairobi, Kenya.
+254 722 157 414
+254 (0) 724 259781/2
Kenya Industrial Research and Development Institute (KIRDI) is a national research institution established in 1979 under the Science and Technology Ac Cap. 250 of the Laws of Kenya (now repealed and replaced by the Science, Technology & Innovation Act, 2013) and mandated to undertake multidisciplinary research and development in industrial and allied technologies including; Mechanical Engineering, Energy and Power Resources, Leather Technologies, Textile Technology, Industrial Chemistry Environment, Chemical Engineering, Electrical Engineering, Food Technology, Ceramics and Clay Technologies, Information Communication & Technology (ICT) and Mining.
Location: Popo Road off Mombasa Road
South C, Nairobi, Kenya
Phone: +254 20 23 88 216 / 23 93 466
For Complaints
Phone: +254 20 23 44 928 / 25 91 071
Email: complaints@kirdi.go.ke
The Kenya Medical Research Institute (KEMRI) is a state corporation established through the Science and Technology (Amendment) Act of 1979, which has since been amended to Science, Technology and Innovation Act 2013 as the national body responsible for carrying out health research in Kenya.
KEMRI has grown from its humble beginning over 40 years ago to become a regional leader in human health research.
The Institute currently ranks as one of the leading Centres of excellence in health research both in Africa as well as globally.
Kenya Medical Research Institute
P.O. Box 54840 00200 Off Mbagathi Road. Nairobi, Kenya.
Tel: +254 722205901
Center for Geographic Medicine Research, Coast
P.O. Box 230-80108, Kilifi Kenya
Tel: +254 709 750
Center for Global Health Research (CGHR)
P.O. Box: 1578 – 40100, Kisumu, Kenya
Tel: +254 (20) 22923
Center for Infectious and Parasitic Diseases Control Research (CIPDCR)
P.O. Box: 3 – 50400, Busia, Kenya
Tel: +254 (020) 2005948
The institute is in charge of the production, research and innovation of veterinary vaccines in Kenya. The Kenya Veterinary Vaccines Production Institute (KEVEVAPI) was established as a parastatal institution under, Cap 446 of the laws of Kenya on 5th May 1990 through legal Notice No. 223 of 4th June, 1990. This followed the dissolution of a joint venture between the Government of the Republic of Kenya and the Wellcome Trust Foundation of the United Kingdom. The Institute was created by merging three different institutions that were producing vaccines in Kenya and included the Vaccine Production Laboratory (VPL) at Embakasi, the vaccine production section at the KARI- National Veterinary Research Centre (NVRC) at Muguga and the vaccine section of Veterinary Research Laboratory at Department of Veterinary Services Headquarter at Kabete.
Kenya Veterinary Vaccines Production Institute Contacts
P.O. BOX 53260 00200
Head Office, Embakasi off Enterprise Road, Road A,
NAIROBI, KENYA
The institute was established to conduct research on aquatic systems covering both marine and freshwater. Kenya Marine and Fisheries Research Institute (KMFRI) is a State Corporation established in 1979 by the Science and Technology Act, Cap 250 of the Laws of Kenya, which has since been repealed by the Science, Technology and Innovation Act No. 28 of 2013 which has recognized KMFRI as a national research institution under section 56, fourth schedule. KMFRI's mandate is to undertake research in "marine and freshwater fisheries, aquaculture, environmental and ecological studies, and marine research including chemical and physical oceanography", in order to provide scientific data and information for sustainable development of the Blue Economy.
Contacts
The Director General
Kenya Marine and Fisheries Research Institute
Headquarter and Mombasa Centre
P.O. Box 81651- 80100 
Silos Road,English Point,Mkomani
Mombasa, KENYA
Phone: +254 (20) 8021561, (20) 8021560, 0712003853
Customer Service: +254 (20) 2178357
Public Complaints: public_complaints@kmfri.go.ke
Corruption prevention email: anticorruption@kmfri.go.ke 
Email: director@kmfri.go.ke
Website:www.kmfri.go.ke
Facebook:Kenya Marine and Fisheries Research Institute
It is a state corporation under the Ministry of Interior and Coordination of National Government. It is mandated to carry out research into the causes of crime, its prevention and to disseminate the research findings to relevant government agencies.
ACK Garden Annex – Ground Floor,
1st Ngong Avenue, Off Bishop's Road,
P.O. Box 21180-00100, Nairobi.
Tel: 020 2714735
Mobile:0722 980 102
Email: info@crimeresearch.go.ke
National Museums of Kenya (NMK) is a state corporation established by an Act of Parliament, the Museums and Heritage Act 2006. NMK is a multi-disciplinary institution whose role is to collect, preserve, study, document and present Kenya's past and present cultural and natural heritage. This is for the purposes of enhancing knowledge, appreciation, respect and sustainable utilization of these resources for the benefit of Kenya and the world, for now and posterity. NMK's mutual concern for the welfare of mankind and the conservation of the biological diversity of the East African region and that of the entire planet demands success in such efforts.
In addition, NMK manages many Regional Museums, Sites and Monuments of national and international importance alongside priceless collections of Kenya's living cultural and natural heritage. As an institution that must respond to the growing needs of the society, NMK is striving to contribute in a unique way to the task of national development.
National Museums of Kenya Corporate Headquarters
Museum Hill
P.O. BOX 40658- 00100
Nairobi,Kenya.
Website: www.museums.or.ke
Membership
Membership for Kenya Museum Society
+254724–255299 OR +254-20-2339158
Email: info@kenyamuseumsociety.org
website: www.kenyamuseumsociety.org
Feedback
Comments, suggestions or concerns
E-mail: publicrelations@museums.or.ke
For complaints please write to us:
complaints@museums.or.ke
Tel:+254-20-8164134/35/36
Tegemeo Institute of Agricultural Policy and Development is a policy research institute under the Division of Research and Extension of Egerton University. The Institute is established under Statute 23 (14-t) of the Egerton University Statutes, 2013 under the Universities Act , 2012 (No. 42 of 2012) and its Instruments.
TETEZI TOWERS, 4 th Flr
George Padmore Rd, Off Marcus Garvey rd
PO Box 20498 NAIROBI, KENYA
+254720895454 +254714895454
0202347297 0203504316
egerton@tegemeo.org
info@tegemeo.org
The institute is mandated to undertake and coordinate tourism research and analysis. The object and purpose of TRI are stated in Tourism Act No. 28 of 2011. The Act states that; TRI will undertake and co-ordinate tourism research and analysis in accordance with its provisions. This will ensure that the research and knowledge gaps that exist in the sector are adequately addressed in line with the mandate of the Institute. TRI will therefore be a principal reference point for generating data and research information to inform decision making by the government and private sector on tourism matters.
Tourism Research Institute,
Utalii House,7th Floor,
Utalii Lane, off Uhuru Highway.
P.O. Box 42131-00100, Nairobi, KENYA
Telephone: 0202001084
Email: info@tri.go.ke
Website: https://www.tri.go.ke
Private Research Institutions
The African institue for Capacity Building and Training (AICB) is a Capacity Building Institution registered under the Companies Act Chapter 486 as a private enterprise to operate and practice as a management training and consulting firm.
AICB was formed by a group of professional Consultants from various Public and private Universities in kenya with background in various field as Accounting and Finance, Human Resource, Strategic Leadership and Management, Project Management Customer  Service coupled with a wide range of experience in both private and public sector organizations, locally and internationally.
Kindaruma Court,
Kindaruma Road, Nairobi
House No: B6      +254 775 068 529 +254 787 715 608
What started as a small team responding to a population of people in need has grown into a global partnership between academic institutions in Kenya, North America, and around the world. Together, we've pooled our resources, knowledge, ideas, and passion to become one of Africa's largest, most comprehensive and successful health care systems.
AMPATH Kenya
P.O. Box 4606
Eldoret, Kenya 30100
Phone: +254 532-033-471
Fax: +254 532-060-727
info@ampathkenya.org
HJF Medical Research International, Inc. (HJFMRI) over the past two decades has played a key role in the success of hundreds of international medical programs. Working side-by-side with medical researchers from across the globe, HJFMRI provides a wide range of services that facilitate basic research, scientific trials, clinical care, training, capacity-building, facility management and more. From mentoring small entities to managing large consortiums, we partner with the medical community, academia and private industry to pursue the most advanced research.
POB 37758-00100
Ole Odume Road
Nairobi, Kenya
The International Cancer Institute (ICI) is a Non-governmental Not for Profit organization of P.O. Box 8088-3100, Eldoret, based in Eldoret-Kenya, whose main purpose is to expand education and training opportunities in cancer care and research across sub-Saharan Africa through multi-sectoral collaborations and partnerships with relevant organizations both governmental and Non-governmental. ICI also aims at facilitating the registration and the functions of the College of Oncologists of East, Central and Southern Africa (ECSACO).
PO Box 8088 Nandi Rd, Eldoret
Uasin Gishu County, Kenya
info@intercancer.com
(254)718-473-446
The institute works to improve food security and reduce poverty in developing countries through research for better and more sustainable use of livestock.
The International Livestock Research Institute (ILRI) works for better lives through livestock in developing countries. ILRI is co-hosted by Kenya and Ethiopia, has 14 offices across Asia and Africa, employs some 700 staff and has an annual operating budget of about USD80 million.
ILRI is a CGIAR research centre, a global research partnership for a food-secure future. CGIAR science is dedicated to reducing poverty, enhancing food and nutrition security, and improving natural resources and ecosystem services. Its research is carried out by 15 CGIAR centres in close collaboration with hundreds of partners, including national and regional research institutes, civil society organizations, academia, development organizations and the private sector. www.cgiar.org
ILRI Kenya
PO Box 30709
Nairobi 00100, Kenya
The Research Care and Training Programme (RCTP) Family AIDS Care and Education Services (FACES)
FACES is building a healthy, HIV-free future for all through high-quality research, health care services, and training.  To prevent and treat HIV effectively, every child, adolescent and adult must have access to services that meet their needs, both in and outside of the clinic. In the Nyanza region of western Kenya, too many people's health care and other basic needs go unmet. As a result, the HIV prevalence there is three times higher than the national rate.
The Regional Centre for Mapping of Resources for Development (RCMRD) was established in Nairobi – Kenya in 1975 under the auspices of the United Nations Economic Commission for Africa (UNECA) and the then Organization of African Unity (OAU), today African Union (AU). RCMRD is an inter-governmental organization and currently has 20 Contracting Member States in the Eastern and Southern Africa Regions; Botswana, Burundi, Comoros, Eswatini, Ethiopia, Kenya, Lesotho, Malawi, Mauritius, Namibia, Rwanda, Seychelles, Somali, South Africa, South Sudan, Sudan,  Tanzania, Uganda, Zambia and Zimbabwe.
P.O. Box 632-00618 Nairobi, Kenya
Roysambu, Kasarani
Nairobi, Kenya
+254 020 2680748 / 2680722
+254 723 786161 / +254 735 981098
rcmrd@rcmrd.org
ICIPE is an international institution that primarily works on research activities involving arthropods.
icipe's mission is to help alleviate poverty, ensure food security and improve the overall health status of peoples of the tropics, by developing and extending management tools and strategies for harmful and useful arthropods, while preserving the natural resource base through research and capacity building.
The Centre's vision is to pioneer global science in entomology, to improve the well being and resilience of people and the environment to the challenges of a changing world, through innovative and applied research, alongside deep exploratory study, impact assessment, evaluation and sustainable capacity building.
Fore more details about icipe and its activities, contact
International Centre of Insect Physiology and Ecology (icipe)
P.O. Box 30772-00100 Nairobi, Kenya
Fax: 
+254-20-86322001/8632002
FIELD STATIONS:
Thomas Odhiambo Mbita Campus
Duduville Campus
Fax: 
+254-20-86322001/8632002
World Agroforestry (ICRAF) is a centre of science and development excellence that harnesses the benefits of trees for people and the environment. Leveraging the world's largest repository of agroforestry science and information, we develop knowledge practices, from farmers' fields to the global sphere, to ensure food security and environmental sustainability.
HEADQUARTERS
World Agroforestry (ICRAF)
United Nations Avenue, Gigiri
PO Box 30677, Nairobi, 00100, Kenya
Tel: +254 20 7224000
Via USA +1 650 833 6645
Via USA +1 650 833 6646
Email: worldagroforestry@cgiar.org
Kenya
World Agroforestry (ICRAF)
United Nations Avenue, Gigiri
PO Box 30677, Nairobi, 00100, Kenya
Tel: +254 20 7224000
Email: j.muriuki@cgiar.org
Press Play and Listen to this article on Nyongesa Sande!!