This article is about how to disable and enable the TouchPad (for ideapad/Lenovo laptops).
Method 1: Enable or disable the touchpad with keyboard keys
Look for the key with this icon  on the keyboard. The button may vary depending on models.

The TouchPad will be enabled automatically after a reboot, resuming from hibernation/sleep mode, or entering Windows.
Press the corresponding button (such as F6, F8 or Fn+F6/F8/Delete) to disable the touchpad. If the shortcut key does not disable or enable the touchpad, go to Lenovo support website to download and install the latest touchpad driver, then retry.
Some keyboards may not have a key for the touchpad. Select Settings, Devices, and then Touchpad (or search for Touchpad) to change touchpad settings (see method 2 or 4 for details).
Check the User Guide or Manual and search for function keys to see what keys the keyboard has: How to find and view manuals for Lenovo products – ThinkPad, ThinkCentre, ideapad, ideacentre
Method 2: Enable or disable the touchpad with settings
Make sure the touchpad driver (for example, Synaptics or Elan) installed on the PC is the latest. If not, go to Lenovo support site to download and install. Otherwise Device Settings may be unavailable. Search to open Control Panel –> Mouse. See Where is Control Panel?
In the Mouse Properties window, switch to Device Settings or the Brand name tab.
Synaptics: Click Disable. A warning window will show. Click OK to continue. Elan: Click Enable Device or Stop Device. Select Disable when external USB pointing device plug in to disable the touchpad when a USB mouse is plugged in automatically.
Click Apply –> OK. The touchpad will be disabled permanently.
To bring back the touchpad, repeat the above steps, then click Enable.
Method 3: Driver is incorrectly installed or outdated
If drivers are not installed on the system successfully, this may impact the touchpad. Check Device Manager to make sure there is no exclamation point before the driver. If there is an exclamation point, right-click the title and choose properties. Then wait for automatically updating your driver. After updating, the touchpad should be valid.
Method 4: Enable or disable Precision Touchpad for Windows 10
How do you know the touchpad is a precision touchpad?
To find out if the PC has a precision touchpad, go to the Touchpad settings.
Click the Start button and click Settings or right-click the Windows icon and select Settings.

Click Devices > Mouse & touchpad or Touchpad and look for a Your PC has a precision touchpad note. Otherwise, check videos for standard touchpad settings:
Basic touchpad settings
There is a switch to turn the touchpad on and off and a check box to disable the touchpad when connecting to a mouse.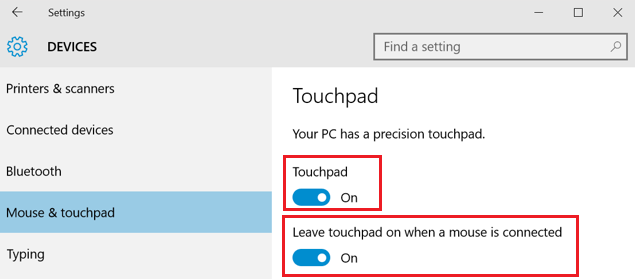 Tap
Tap provides options to use taps instead of clicking buttons.
E.g. If choosing Tap with two fingers to right-click, then, tapping with two fingers has the same effect as right-clicking with the mouse.
Scroll and Zoom
Settings allows scrolling and zooming in and out by swiping two fingers on the touchpad. The scrolling direction can also be inverted.
Three-finger gestures
Standard gestures
Swipe up to show task view
Swipe left and right to switch between task
Swipe down to show desktop
Use the drop-down menu to change the actions.
Method 5: Guided Solutions
Try the following step-by-step guided solutions:
If the above steps do not help, click Contact US to get local Lenovo service help.
Method 6: Videos
Videos:
How do I connect a wireless mouse to my Lenovo laptop?
To connect a wireless mouse to your laptop, go to Settings > Devices > Bluetooth & other devices > Add Bluetooth or other device. Make sure the mouse is in pairing mode, then select it in the list of devices.
How do I use the middle mouse button on my Lenovo laptop?
How do I disable zoom on my Lenovo laptop trackpad?
In Windows search, look for Touchpad settings. Under Scroll and Zoom, uncheck the box next to Pinch to Zoom.
Source: Lenovo
Was this article helpful?