M-Pesa is a mobile phone-based money transfer service, payments and micro-financing service, launched in 2007 by Vodafone Group plc and Safaricom, the largest mobile network operator in Kenya. It has since expanded to Tanzania,
Mozambique
, DRC, Lesotho, Ghana, Egypt, Afghanistan and South Africa. Let us learn How to top up via Mpesa across all Networks in Kenya
Buy Using M-PESA using the 309028 pay bill number.
It is a free service for all top ups under KES 100. Now, the same process can be used to purchase airtime for other Telkom and Safaricom lines.
To reiterate, here is how you do it:
Access your STK or mySafaricom app
Choose Lipa Na M-PESA
Select Pay Bill
Enter Business Number (309028)
Enter account number (Telkom, Safaricom or Airtel number)
Choose amount
Authenticate with your PIN code
Done – top up via Mpesa across all Networks
Top Up Via ROBJUN TECHNOLOGY LIMITED ( Paybill No. 990960)
BUY YOUR AIRTIME FROM MPESA VIA PAYBILL 990 960 ACCOUNT IS YOUR MOBILE NUMBER customer care 0771763472 sms/call/whatsapp.
Buy airtime from your Mpesa using paybill no. 990 960 to ALL NETWORKS . Account number is the phone no.

💯Simple
💯Reliable
💯Easy pic.twitter.com/MTkhZ1P3ej

— ROBJUN TECHNOLOGY LIMITED (@RobjunLimited) April 22, 2021
To reiterate, here is how you do it with Robjun Technologies:
√lipa na mpesa
√paybill
√Enter business no. 990960
√Account no (07********)
√Amount (from 5bob) Pin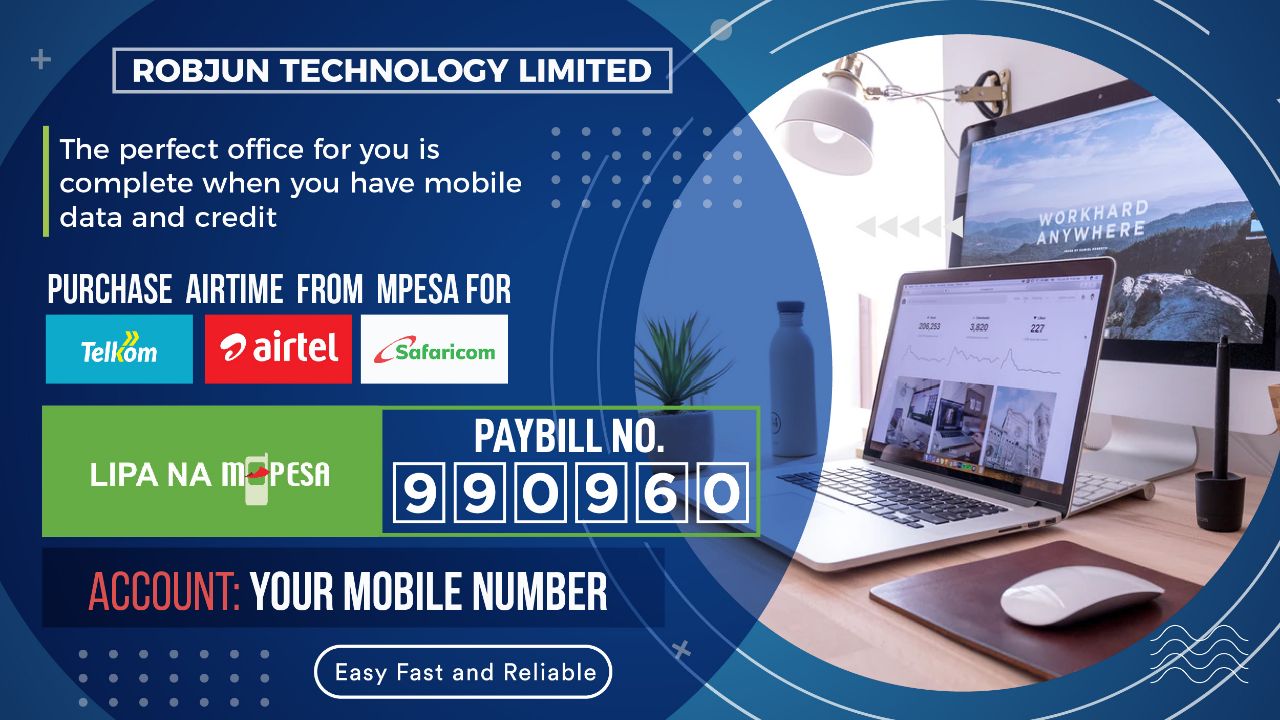 Top Up Telkom Line Via Mpesa ( Telkom Paybill NUMBER 777711 )
Go to the M-pesa Menu
Select Paybill.
Enter business number 777711.
Enter Account your Telkom Mobile Number.
Enter the amount
Enter your M-pesa pin then send.
Top Up Using PesaPal
Buy airtime and data bundles online or directly from your mobile phone with extensive payment options made available. PesaPal has made it easy for you to buy airtime and data bundles anywhere anytime.
Using MPESA
Go to the M-pesa Menu
Select Pay Bill
Enter Business No. 220220
Enter Account No. AIRTXXXXXX (Where XXXXXX is your Airtel Mobile number)
Enter the Amount
Enter your M-Pesa PIN then send
Using Airtel Money
Go to the Airtel Money Menu
Select Make payments
Select Pay Bill then Other
Under business name enter pesapal
Enter Amount
Enter your Airtel Money PIN
Under Reference enter AIRTXXXXXX (Where XXXXXX is your Airtel Mobile number)
Credit Or Debit Card

To use Visa and MasterCard and other payment services such as Mobile banking go to the online portal at airtelairtime.com
Pay Postpaid Bill Using PesaPal
Postpaid Using MPESA
Go to the M-pesa Menu
Select Pay Bill
Enter Business No. 220220
Enter Account No. AIRPXXXXXX (Where XXXXXX is your Airtel Mobile number)
Enter the Amount
Enter your M-Pesa PIN then send
Postpaid Using Airtel Money
Go to the Airtel Money Menu
Select Make payments
Select Pay Bill then Other
Under business name enter pesapal
Enter Amount
Enter your Airtel Money PIN
Under Reference enter AIRPXXXXXX (Where XXXXXX is your Airtel Mobile number)
Credit Or Debit Card

To use Visa and MasterCard and other payment services such as Mobile banking go to the online portal at airtelairtime.com