X Corp. is an American technology company established by Elon Musk in 2023 as the successor to Twitter, Inc. It is a wholly owned subsidiary of X Holdings Corp., which is itself owned by Musk. The company owns the social networking service Twitter (currently rebranding to X) and has announced plans to use it as a base for other offerings.
History
Conceptualization and planning (2022–2023)
In April 2022, filings to the Securities and Exchange Commission (SEC) revealed Musk had formed three corporate entities in Delaware, all under the name of X Holdings. According to the filings, one of the entities was to merge with Twitter, Inc., while another was to serve as the parent company of the newly merged company. A third entity would then help take on a US$13 billion loan provided by various large banks to acquire Twitter. The name "X" dates back to X.com, an online bank co-founded by Musk in 1999. In March 2000, X.com merged with competitor Confinity to create PayPal. Musk considered forming a holding company named "X" for Tesla, Inc. and SpaceX in August 2012. In July 2017, Musk reacquired the domain X.com, for an undisclosed amount, from PayPal. Musk reaffirmed his support for the name "X" in December 2020, replying to a Twitter user who renewed calls for Musk to form a new holding company under that name, although he dismissed the idea of X acquiring his businesses.
The concept for X solidified in October 2022, when Musk tweeted that acquiring Twitter is "an accelerant to creating X, the everything app". According to Musk, Twitter would accelerate the creation of X by "3 to 5 years". Musk expressed interest in creating an app similar to WeChat—a Chinese instant messaging, social media, and mobile payment app—on a podcast in May 2022. In June, Musk told Twitter employees that Twitter is a "digital town square" that should be all-encompassing, like WeChat. In a Morgan Stanley conference in March 2023, Musk touted X once again as the potentially "biggest financial institution in the world". On October 27, 2022, Musk acquired Twitter for $44 billion, and subsequently became its CEO.
Formation (2023–present)
In March 2023, Musk registered X Corp. in Nevada. On the same day, Musk registered the artificial intelligence (AI) company X.AI. Later that month, Musk applied to merge X Holdings I with X Holdings Corp. and Twitter, Inc. with X Corp. In the filing, Musk revealed that X Holdings Corp. has $2 million in capital; X Holdings Corp. will also serve as the parent company for X Corp. In a company-wide email that month, Musk announced that Twitter employees will receive stock in X Corp.
In an April 2023 court filing for an ongoing lawsuit filed by right-wing political activist Laura Loomer against Twitter and its former CEO Jack Dorsey, Twitter, Inc. notified the court that it had been consolidated into X Corp., a Nevada corporation based in Carson City. A similar filing was made in the U.S. District Court for the Southern District of Florida.
On May 11, 2023, Musk tweeted that he had found his replacement as Twitter and X Corp.'s CEO. The next day, on May 12, he named Linda Yaccarino as the new CEO, adding that she "will focus primarily on business operations, while I focus on product design & new technology". Musk said he will transition his role to executive chairman and chief technology officer. Yaccarino succeeded Musk on June 5, 2023.
Fidelity Investments estimated the company's value at $15 billion in June 2023.
Twitter, Inc. is now X Corp.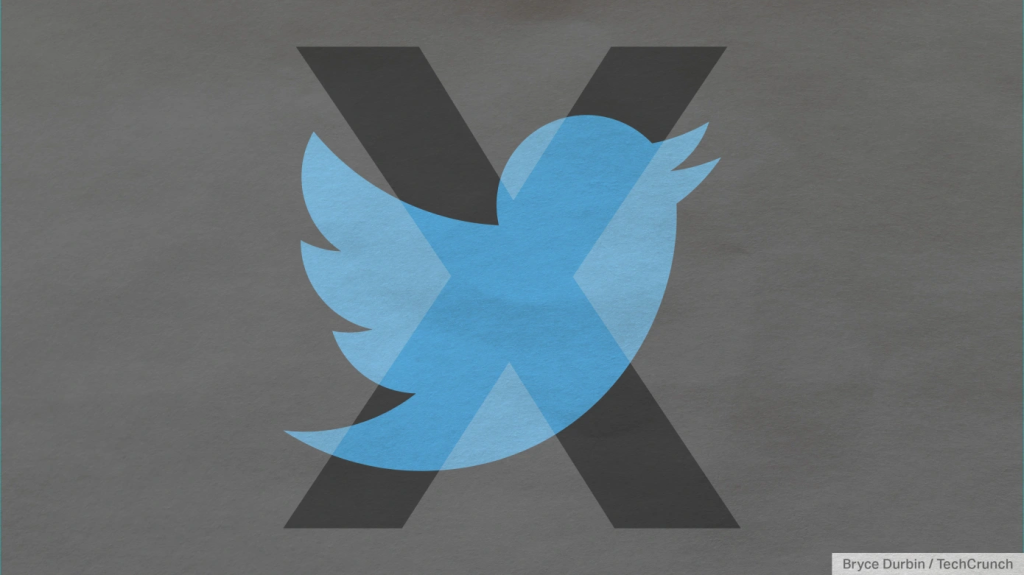 Twitter, Inc. is now called X Corp., according to a court filing in California.
Since Twitter is no longer a public company, it does not have to report updates like name changes to the SEC. But in any case, the new name was spotted in an April 4 document related to far-right activist Laura Loomer's lawsuit against Twitter and Facebook.
"Twitter, Inc. has been merged into X Corp. and no longer exists," the document states.
Elon Musk, who purchased Twitter for $44 billion last year, has aspired to build what he calls "X, the everything app." This proposed app might look like China's WeChat, which supports messaging, payments, ridesharing, food delivery and other services all in one app. Musk has applauded WeChat for its convenience and utility, yet its unique dominance could be impossible to replicate outside of China. The name also harks back to X.com, Musk's financial services startup that spun into PayPal.
This move could be seen as the next step toward Musk building his super app, but the mogul does not have a great track record with following through on his plans. Yet the name change is not unprecedented. As CEO of Tesla, Musk has shown that vertical integration is well-loved page in his playbook — just look how many subsidiaries the car company has.
For now, Twitter is riddled with enough bugs to keep its skeleton crew of engineers busy, while the revamped Twitter Blue subscription is not pulling in the revenue it needs. Even if Twitter is now part of the X Corp., the proposed X app seems very far off.
Twitter is now X. Here's what that means.
The internet is abuzz as the app formerly known as Twitter announced a name change over the weekend. X.com now redirects to Twitter.com, although the social media platform still invites users to "tweet."
The rebrand is another step in the ongoing transformation of Twitter, an online watering hole for hyper-connected people that aspires to become an app that can do "everything," according to CEO Linda Yaccarino.
"Twitter was acquired by X Corp both to ensure freedom of speech and as an accelerant for X, the everything app," the company's owner, billionaire Elon Musk, posted on Monday.
"The Twitter name made sense when it was just 140 character messages going back and forth – like birds tweeting – but now you can post almost anything, including several hours of video. In the months to come, we will add comprehensive communications and the ability to conduct your entire financial world."
What will the app do now?
Musk has been vocal about his goal of turning Twitter into a so-called super-app, something akin to China's WeChat. For now there's no American equivalent to such an app, but industry experts imagine an app that encompasses basically anything a person wants to do online.
"Consumers of the app can do a lot of different things on the platform, whether it's listen to a podcast, shop, watch videos," said Nii Ahene, chief strategy officer of marketing firm Tinuiti.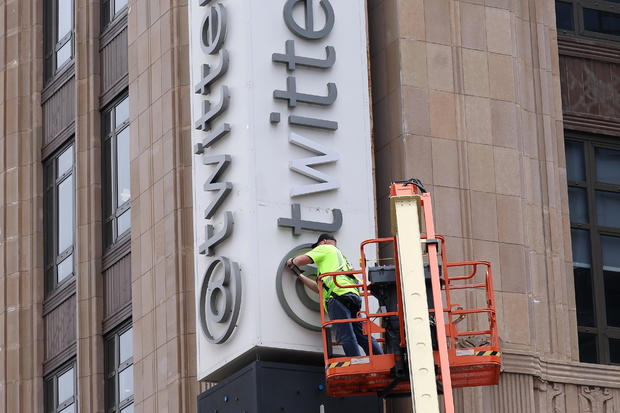 Twitter already lets users engage in live audio conversations, send longer text messages and broadcast video, such as the new show former Fox News host Tucker Carlson recently launched on the platform. If Twitter's push into paid subscriptions is successful, it could eventually expand into sharing some subscription revenue with users.
"In theory, they can become a more mainstream version of Patreon or other similar platforms," Ahene said. "Whether they succeed remains to be seen. It's not the reason people go to Twitter today, so to reposition the company … would take significant investment and time with what's really a skeleton team."
What's with the letter X?
Musk appears to have a longstanding fixation on the letter X, dubbing his very first startup X.com. (After a merger, the app became PayPal, although Musk reportedly pushed for it to keep the name X, according to biographer Walter Isaacson.) After buying Twitter, Musk reportedly texted Isaacson that he was "very excited about finally implementing X.com as it should have been done, using Twitter as an accelerant!"
The letter X surfaces throughout Musk's other endeavors as well, including his space-exploration venture SpaceX, his recently launched artificial-intelligence app xAI and the Model X, one of electric car company Tesla's earliest models. Musk even refers to his son with singer Grimes, by the name X.
"It's just X, the letter X," he said on the Joe Rogan Experience recently, explaining how to pronounce his son X Æ A-XII's name.
Musk regained ownership of X.com six years ago. He formally changed Twitter's legal name to X Corp in April. Over the weekend, X.com was redirected to Twitter.com, and on Monday a crane began to remove Twitter's iconic bird logo from the company's San Francisco headquarters. However, police stopped the work soon after it began.
What does this mean for Twitter?
For now, the platform's rebrand is just a name change — no new features have been introduced, staying true to Musk's apparent preferred product strategy of hype first, delivery much later.
But the name change suggests Musk is likely to keep control of the company for the near future, said Bloomberg Intelligence analyst Mandeep Singh. After Musk's takeover in April of 2022, some observers believed the billionaire could make some changes to Twitter and quickly flip it to a different owner, Singh said.
"That option is off the table now given the name change — I don't think there's any other prospective buyer who will take it now," he said.
What are the roadblocks?
To be sure, there are many ways an "everything app" could fail, from simply confusing its users to struggling to attract enough advertisers.
"If you look at what Tesla's done in terms of advertising, which is very little, [Musk's] belief is that good product sells itself and you don't need to advertise it. Meanwhile, you have many, many large brands and companies that spend millions of dollars on Twitter and would beg to differ," said Aaron Goldman, chief marketing officer for Mediaocean, an advertising partner of Twitter's. 
Expanding the platform's reach to include things like shopping and paid subscription content could actually help it flourish in the long term by creating several revenue streams and making it less reliant on large companies' willingness to spend money, analysts said.
In the short term, building out those capabilities would require a massive investment in staff and infrastructure. It's far from clear if a company that slashed about three-quarters of its staff and is now embroiled in multiple lawsuits over unpaid bills can deliver that.
"The investment is a lot in terms of cloud infrastructure — we're talking about $40 billion, $50 billion in upfront investments," Singh said. "Twitter as a standalone app doesn't have the infrastructure to become an everything app."
Make sure to check out our social media to keep track of the latest content.
Instagram -  @nyongesasande
Twitter -  @nyongesasande
Facebook -  Nyongesa Sande
YouTube -  @nyongesasande
Disclaimer: The information that Nyongesasande.com provides on this website is obtained from publicly available resources and is intended for information or educational purposes only. We aim to present the most accurate information possible. Through this website, you might link to other websites which are not under our control. We have no control over the nature, content and availability of those websites. Inclusion of any links does not necessarily imply a recommendation or endorsement of the views expressed within them. All content on this website is copyright to the website's owner and all rights are reserved. We take no responsibility for, and will not be liable for, the website being temporarily unavailable due to technical issues beyond our control. Please refer to our terms and conditions and privacy policy before using this website.