AA Kenya has evolved over the past 100 years from vehicle importation, road construction; driving school set up to an Association with a wide array of mobility related products and services. AA Kenya Driving School Fees Structure and Branches. Founded in 1919, the role that AA played in the formative years was critical to ensuring the interests of motorists in the country were safeguarded. Some of the critical roles AA played included: providing information on the purchase and maintenance of motor vehicles, negotiating attractive insurance premiums for its members, set up of the first petrol depots in the country, and mapping of the roads. One of the milestones we are most proud of is that our founder, Galton Fenzi, was the first to drive from Nairobi to Mombasa using the Riley 12/50 vehicle. This vehicle was donated to AA Kenya to facilitate testing of road conditions in East Africa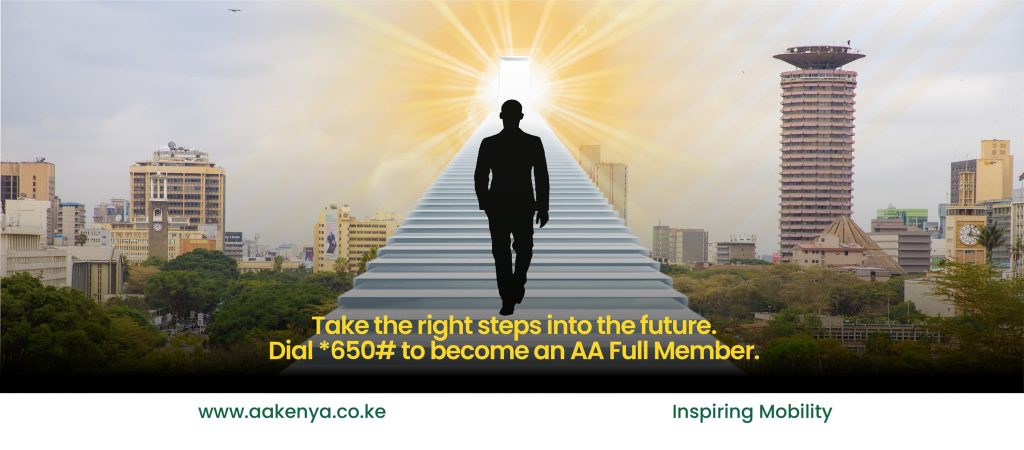 By 1925 the membership of the association had grown to 2000, but the effects of the Second World War reduced the membership to 1,189 by 1939 and 753 in 1946. To diversify its services, the association started operating a driving school in 1962 beginning with a single Ford Anglia. The idea was introduced by the late M.A.S Northcorte and other former British army men. Respected for its strictness, in depth curriculum and commitment to responsible driving AA has become one of the most favoured driving schools on the continent. In the year 2000 AA Kenya completed the construction of it's million dollar headquarters comprising a highly equipped garage. At present the association has over 100,000 members and branch offices in all major towns countrywide. Internationally, AA Kenya is affiliated with Fédération Internationale de l'Automobile (FIA) which represents over 100 million motorists worldwide.
AA Driving School Fees Structure : Learner Driver Course
AA driving school offers this course for complete beginners and the charges vary as follows:
Category A NTSA (Motor Cycles driving instruction course)
This comprises of 15 theory and practical lessons and will teach you how to safely and professionally ride a motor cycle.
The prevailing AA driving school fees for this course is just sh.4,500.00
There are, however, a couple of additional charges as explained below:
Driver's manual- shs.700.00
NTSA examination and logistics fees- shs. 2200.00
Applicable service charge- shs.580
Total fee for the programme: shs. 7980
NTSA Category B Driving Instruction course (for Light Vehicles such as Saloon cars)
If you're planning to buy a saloon car for business or family travel, this is the ideal course.
You will undergo 30 practical and theory driving instruction course lessons under this programme and you should come out as a very competent driver.
At the moment, AA driving school fee for this instruction course is Kshs. 17,500.00.
But as always, you'll incur some extra expenses because of training manuals and NTSA facilitation.
For this course, you'll add the following monies:
Driver's manual- shs.700.00
NTSA examination and logistics fees- shs. 2200.00
Applicable service charge- shs.580
Total fee for the light vehicle instruction course will, therefore, be shs. 20980
AA Driving School Fees Structure Truck Drivers instruction Course
This is officially classified as NTSA Category C and is for those wishing to learn how to drive heavy commercial vehicles.
This is thus the driving course to go for if you dream of working as a career truck driver locally and the eastern Africa region (AA Kenya is recognized across the continent).
The course has 30 theoretical and practical lessons and you must be at least 22 years old to be accepted into this course.
The regular AA driving school fees here is Kshs. 19,900.00 plus the usual NTSA, service charge, and driver's instruction manual cost.
Automobile Association of Kenya
Renaissance Corporate Park, Upper Hill
P.O Box 40087-00100 Nairobi
Phone: 0709 933 000 | 0709 933 999
Email: aak@aakenya.co.ke
AA KENYA BRANCHES
| No | BRANCH NAME | LOCATION | PHONE NUMBER |
| --- | --- | --- | --- |
| 1 | AA Head Office Reception | Renaissance corporate Park, Upperhill | 0709933011 |
| 2 | BuruBuru | Gemuwa House, 3rd floor | 0709333003 |
| 3 | Embakasi | AA House, Catherine Ndereba Road | 0709933901 |
| 4 | Eldoret | Fims Building, 2nd floor | 0709333010 |
| 5 | Embu | Eastern Emporium Building, Kenyatta Highway (above NHIF office) | 0709333019 |
| 6 | Hurlingham | APA Arcade, 3rd floor | 0709933000 |
| 7 | Kiambu | Kiambu Post office, 1st floor | 0709333021 |
| 8 | Kitui | Bonus mall, 2nd floor | 0709333024 |
| 9 | Kahawa Sukari | Mizpah Building | 0709333026 |
| 10 | Kahawa Wendani | Opp Kahawa barracks main gate | 0709333004 |
| 11 | Kakamega | Equity building, Ambwere Towers, 2nd floor | 0709333014 |
| 12 | Karatina | Biashara Street opp Karatina Air market, 1st floor | 0709333016 |
| 13 | Kericho | Koinei Plaza,3rd floor | 0709333012 |
| 14 | Kisii | The Place Building, 3rd floor | 0709333013 |
| 15 | Kikuyu | Eureka Towers, 3rd floor | 0709333031 |
| 16 | Kisumu | Tivoli centre, 2nd floor | 0709333009 |
| 17 | Kitale | Yes Plaza Building, 2nd floor | 0709333011 |
| 18 | Likoni | Rafiki Building, 3rd floor | 0709333005 |
| 19 | Machakos | TTEN building, 1st floor – Suite no.1 | 0709333020 |
| 20 | Meru | Muthui Building behind Society stores, Ground floor | 0709333018 |
| 21 | Mtwapa | Reena Plaza, 1st floor | 0709333029 |
| 22 | Mombasa | NSSF Building, Ground floor | 0709333007 |
| 23 | Narok | The Oltalet mall, 3rd floor | 0709333028 |
| 24 | Naivasha | Wagi House next to NSSF | 0709333022 |
| 25 | Nakuru | Gate House Building, 2nd floor | 0709333008 |
| 26 | Nanyuki | National bank building, 2nd Floor | 0709333025 |
| 27 | Nyeri | Lymo Plaza, 2nd floor | 0709333017 |
| 28 | Ongata Rongai | Tyme Suite, 4th floor | 0709333030 |
| 29 | Westlands | Sarit Centre, 2nd floor | 0709333001 |
| 30 | Thika | Twinoak Plaza, 2nd floor | 0709333006 |
| 31 | Village Market | Village Market Complex, Ground floor | 0709333002 |
| 32 | Ruaraka | Top Brass house 2nd floor along Outering road | 0709333128 |
| 33 | CBD | Agriculture house, 4th floor- Harambee Avenue | 0709333129 |
| 34 | Kitengela | Kitengela Plaza, 1st floor | 0709333130 |
| 35 | Chuka | Ushirika Plaza, 3rd floor | 0709333023 |
| 36 | Karen | Karen Square, 2nd floor | 0757059157 |
| 37 | Kawangware | Tunza Plaza, 2nd floor | 0757059245 |
| 38 | Kasarani | Total Clay city, 2nd floor | 0709333134 |