Azimio la Umoja-One Kenya coalition will today officially unveil its manifesto, which its presidential candidate Raila Odinga hopes will net the undecided voters.
He said the coalition has delayed the release of the blueprint for fear of copycats who may steal the ideas spelt in the document.
The former Prime Minister said he will deal firmly with the high cost of living.
Speaking in Nakuru yesterday, Raila said the 10-point manifesto has everything for everyone in the country, promising to ensure equality in resource distribution across the 47 counties.
"We shall on Monday unveil our manifesto in Nairobi. We have no doubt that with this, every Kenyan, especially the undecided and those in the opposing camp, will back us," he said.
Raila 10-point agenda to focus on resource distribution and healthcare | Azimio manifesto launch
Following the listening tours, and to address the concerns that emerged, we came up with a Ten-Point People's Programmes as follows:
Inua Jamii, Pesa Mfukoni
A nation's greatness is judged by how it treats its poor and vulnerable. Pesa Mfukoni is a social protection programme that will deliver Ksh6, 000 per month to two million of the country's most needy families.
It is not a handout but an investment and a foundation for a new transformational value chain that will also trigger massive economic activity and create thousands of localized small scale businesses and enterprises across the country.
This will lead to millions of jobs and the eventual development of a thriving middle class. The resulting middle class and SMEs will be a robust market for larger, more national corporations.
BabaCare
Each of us has experienced the all-consuming strain that accompanies the ill-health of a family member. We know that Health-related calamities do not ask who you voted for! And because Health care is a constitutional right, BabaCare will scale up the Universal Health Care pilot programmes to the rest of the country.
We want a Kenya where no one will ever have to wonder if they can afford to save their child's life, get treatment for their ailing grandparents or manage a chronic disease.
Kazi Kwa Wote
This is about securing the welfare of the people by generating avenues for productivity, through job creation programs, investing in the critical jua kali sector and other macro and microeconomic stimulation schemes.
Uchumi Kwa Akina Mama
This will focus on the true multipliers of wealth in our community; our women.  The programme will unlock access to financing for women-led businesses and provide support for women on other enabling factors such as access to assets for production, land tenure and proportional representation at all Government levels.
Hashtag Inawezekana
We know that our youth are closer to the future than we are. But they are exploited as cannon fodder for bad politics. Now more than ever, we need to invest in preparing our youth for that future. The program will equip our youth with the mindset, skills, funds and technology to enable them to innovate at par, and even surpass their global counterparts.
Waste not a Single Child
Education is non-negotiable. This programme will be an aggressive scheme to ensure that all, not some of our children, get rightful access to quality education. We will deploy a new army of teachers to deliver to our children.
For northern Kenya, we will pursue a special affirmative action program in admitting students from ASAL into Teacher Training Institutions and universities to create a local, committed workforce to serve as teachers and education officers in the region. A multi-agency engine will drive the process to ensure no young Kenyan is locked out, for any reason whatsoever.
Fukuza Njaa
The aim here is not to merely feed, but to generate the agricultural bounty that Kenya has the potential to produce. We will factor in Climate Change adaptation and mitigation to support and help realize high agricultural productivity across the nation.
Maji Kwa Kila Boma
The program will radically reverse the artificial shortages and high cost of water, particularly for the poor.  We shall not allow water scarcity to be an issue in a country like ours where lakes and rivers burst their banks, yet desert nations have found ways to direct every drop to their people for consumption and production. Water must and will be the least of every Kenyan household's worries.
One County, One Product
I firmly believe that the idea of devolution in Kenya has the transformative potential of rich mineral mines, abundant oilfields and other traditional markers of a nation's affluence.
"One County, One Product" programme is designed to be a launchpad to a Kenya which consumes its products, exports excesses and registers surpluses, not deficits.
The National Government will support materially and technically towards an ultimate vision where 47 vibrant counties begin industrializing at unstoppable rates.
The Principle of Administrative Continuity
By continuity, I mean building and improving on the gains that have been made by the administrations that came before. Africa suffers from a retrogressive mindset of starting afresh, instead of advancing existing accomplishments.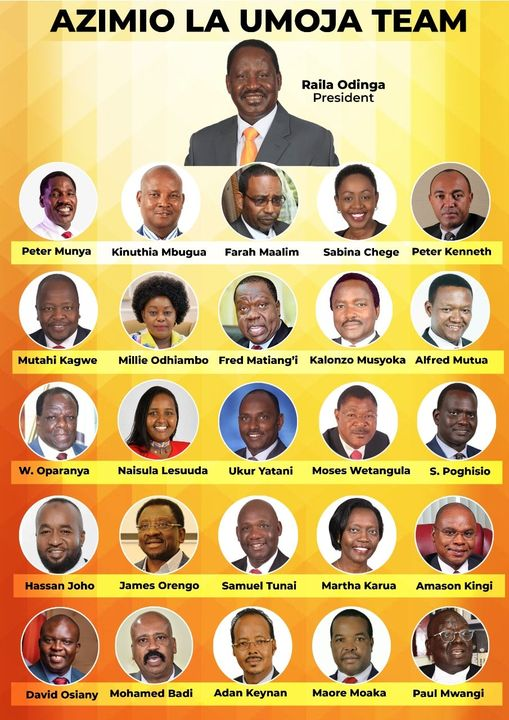 "Our think-tank is finishing the manifesto. It will be published next week. We didn't want to release it early since we knew our rivals will want to copy us."
Speaking on the same day in Laikipia, the former Prime Minister said he will deal firmly with the high cost of living that has sparked protests against President Uhuru Kenyatta's administration.
Raila, promising to deliver Kenyans to his proverbial 'Canaan', exuded confidence he would floor Deputy President William Ruto in the August 9 vote to enable him to deliver the promise.
"We will defeat these people (Kenya Kwanza). Once we assume power, we will deal with corruption. A lot will change in the first 100 days of Baba's government," the ODM leader said.
While addressing a rally in Laikipia on Monday, Raila also promised to reduce prices of basic commodities as well as fuel should he assume the presidency.
"Our people are tired. Kenyans are burdened with high prices of basic commodities. Fuel prices are high so is maize flour. We will change all that," he said.
He was accompanied by several leaders among them area governor Ndiritu Muriithi, Senator aspirant Maina Njenga, and former National Assembly speaker Francis ole Kaparo among other dignitaries.
Was this article helpful?